Orolia to Showcase Latest Resilient Solutions for Legally Traceable Time at APCO
Press Release
•
updated: Aug 8, 2019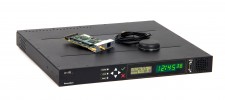 ROCHESTER, N.Y., August 8, 2019 (Newswire.com) - Orolia (formerly Spectracom), the global leader in Resilient Positioning, Navigation and Timing (PNT), announced today that it will showcase its latest portfolio of resilient timing solutions to protect and enable Public Safety Answering Points (PSAPs) at APCO International.
Many E911 operations are moving to a cloud-based infrastructure and becoming hosted services, according to Sadie Nedo, global public safety sales manager at Orolia. "Synchronized operations are mission-critical for public safety organizations and 9-1-1 communications centers when even a microsecond delay or a few centimeters of deviation can lead to the loss of life," she said. "When time must be legally traceable and defensible in a court of law, you cannot afford to rely on the internet as its source."
Orolia's suite of public safety solutions comprises a full range of resilient PNT technology to obtain legally traceable time and protect against GPS jamming and spoofing interference, including NetClock time servers and an alternate signal called STL that provides backup in the event of a GNSS signal interruption and can be mounted directly on the server rack.
"STL is an ideal solution for indoor timing applications where traditional GNSS is difficult to deploy," Nedo said. "It can augment or even replace GNSS in challenging indoor environments or where rooftop access is limited."
Other technology on display will include turnkey solutions for GNSS interference detection and mitigation, system monitoring and PNT testing and services. The world's most PNT-reliant systems rely on Orolia.
What: Orolia Public Safety Exhibit at APCO International
When: August 12-13, 2019
Where: Baltimore Convention Center, Booth 1052, Baltimore, Maryland
Media interview opportunities are available through this advisory.
About Orolia
Orolia is the world leader in Resilient Positioning, Navigation and Timing (PNT) solutions that improve the reliability, performance and safety of critical, remote or high-risk operations. With locations in more than 100 countries, Orolia provides virtually failsafe GPS/GNSS solutions to support military and commercial applications worldwide. Time and Location You Can Trust™. www.orolia.com
Contact:
Jennifer Hewitt
Jennifer.hewitt@orolia.com
(571) 388-8671
Source: Orolia