Orolia Introduces New GNSS Testing and Simulation Portfolio at ION GNSS+
Press Release
•
updated: Sep 18, 2019
Featuring New GSG-8 Advanced GNSS Simulator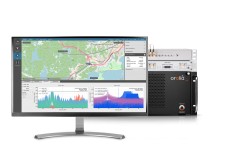 MIAMI, September 18, 2019 (Newswire.com) - Orolia, the world leader in Resilient Positioning, Navigation and Timing (PNT) solutions, introduced its new GPS/GNSS Testing and Simulation portfolio, including the new GSG-8 advanced simulator, at the world's largest showcase of GNSS technology, products and services, ION GNSS+ in Miami.
Orolia's new Testing and Simulation portfolio offers a comprehensive array of GNSS validation technology, as well as signal and PNT data protection through jamming/spoofing detection, suppression and countermeasure solutions. These capabilities are built on Orolia's legacy of Resilient PNT solutions, together with two key acquisitions completed this year: Skydel Solutions and Talen-X. These industry-leading GNSS testing and simulation companies were selected based on their demonstrated testing and simulation experience.
GSG-8, the latest advanced simulator from Orolia, is also being introduced to the global GNSS community this week at ION GNSS+. This software-defined simulation solution offers ultra-high performance and unmatched flexibility in an easy to use format. GSG-8 was developed to deliver the highest standard of GNSS signal testing and sensor simulation performance, in an upgradable and scalable platform.
"With its scientific precision and advanced simulation capabilities, GSG-8 is revolutionizing the GNSS simulation industry with Orolia's robust 1000Hz Skydel software engine and COTS software-defined radios," said Stephane Hamel, director of testing and simulation at Orolia. "GSG-8 is designed for customers that require complex capabilities to validate product and program performance in harsh, high risk environments where failure is not an option- such as government agencies, space programs and specialized commercial programs."
It can be programmed to simulate operations with multiple GNSS constellations and to incorporate the use of encrypted or proprietary signals. GSG-8 may also be configured for Wavefront and Anechoic chamber simulation protocols to test anti-jam antennas and complete systems, to serve the most challenging program requirements. To learn more about GSG-8, visit the product page here.
ION GNSS+ visitors are welcome to visit Orolia booth 311 for a demonstration of the new GSG-8 advanced simulator and an overview of Orolia's Resilient PNT suite.
About Orolia
Orolia is the world leader in Resilient Positioning, Navigation and Timing (PNT) solutions that improve the reliability, performance and safety of critical, remote or high-risk operations. With locations in more than 100 countries, Orolia provides virtually failsafe GPS/GNSS and PNT solutions to support military and commercial applications worldwide. www.orolia.com
Press Contact:
Jennifer Hewitt
(571) 388-8671
​jennifer.hewitt@orolia.com
Source: Orolia
Additional Links