Orolia to Exhibit World-Leading Resilient Timing and Sync Platform at ITSF
Press Release
•
updated: Nov 1, 2019
First DISA-Approved Timing Device; Patented GNSS Jamming and Spoofing Protection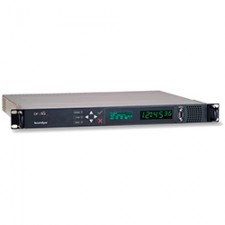 BRIGHTON, England, November 1, 2019 (Newswire.com) - Orolia, the world leader in Resilient Positioning, Navigation and Timing (PNT) solutions, announced today that it will showcase its leading timing and synchronization platform and Interference Detection and Mitigation (IDM) suite to protect against GNSS jamming and spoofing at the world's largest exhibition of timing and synchronization solutions, International Timing and Sync Forum (ITSF).
In addition to U.S. Defense Information Systems Agency (DISA)-approved timing solutions, Orolia will also exhibit its new GSG-8 advanced GNSS simulator, a software-defined solution that offers ultra-high performance and unmatched flexibility in an easy-to-use format. GSG-8 was developed to deliver the highest standard of GNSS signal testing and sensor simulation performance, in an upgradable and scalable platform.
Orolia's opening speaker, European Project Manager Jean-Arnold Chenilleau, will discuss the future of Resilient Timing with OS-NMA, Galileo's authenticated signal, as part of the GSA GEARS project at 9:25 a.m. on Nov. 7, 2019. He will also review multi-frequency receivers and state-of-the-art oscillator disciplining.
Opening Speaker:
Who: Jean-Arnold Chenilleau, European Program Manager, Orolia
What: Future of Resilient Timing with Galileo's OS-NMA signal - GSA's GEARS Project
When: Nov. 7, 2019, at 9:25 a.m.
Where: Hilton-Brighton Metropole Conference Room - Kings Road, Brighton BN1 2FU
Resilient Timing & Sync Exhibit
What: Orolia Resilient PNT Solutions
When: Nov. 4-7, 2019
Where: Orolia Booth #26, ITSF
​Hilton-Brighton Metropole - Kings Road, Brighton BN1 2FU
Media interview opportunities are available through this advisory. Learn more about Resilient PNT and explore Orolia's Jamming and Spoofing Resource Center, a one-stop resource for news, technology and products to protect critical infrastructure.
About Orolia
Orolia is the world leader in Resilient Positioning, Navigation and Timing (PNT) solutions that improve the reliability, performance and safety of critical, remote or high-risk operations. With a presence in more than 100 countries, Orolia provides virtually failsafe GPS/GNSS and PNT solutions to support military and commercial applications worldwide. www.orolia.com
Press Contact:
Sophie Zangs​
Telephone +33 (0) 6 07 42 39 33
Email sophie.zangs@orolia.com
Source: Orolia
Related Media
Tags
Additional Links