Optima Tax Relief CEO David King Named a Glassdoor Top CEO in 2019
Press Release
•
updated: Jun 19, 2019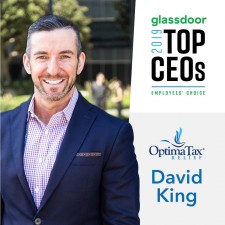 SANTA ANA, Calif., June 19, 2019 (Newswire.com) - ​Optima Tax Relief CEO David King has won a Glassdoor Employees' Choice Award honoring the Top CEOs in 2019, the second consecutive year he has received the honor. One of the world's largest job and recruiting sites, Glassdoor issues the award to highlight company leaders in the U.S., Canada, the U.K., Germany and France who have earned the highest ratings from their respective staffs.
Among the approximately 900,000 companies reviewed on Glassdoor, the average CEO approval rating is 69 percent. King earned this year's award with an impressive 97 percent approval rating from his employees.
"I am honored to be one of the few leaders that were able to repeat as a Top CEO. It is especially meaningful this year as we added over 200 employees, expanded operations into a new market and restructured our organization to meet the increasing demand for our services," said King. "Award-winning culture is a team sport and this award reinforces that our team is doing an amazing job."
"It's an honor to recognize incredible leaders who, from their employees' perspectives, exemplify exceptional vision, trust and communication. Glassdoor's Top CEOs award continues to be more competitive every year and I congratulate each leader on their achievement," said Christian Sutherland-Wong, Glassdoor president and chief operating officer. "Today's job seekers are looking for leaders who share their values and will empower them to bring their full selves to work. More and more, we're seeing Top CEOs make decisions to shape the culture of their organizations to help recruit and retain quality talent, which has a direct correlation to fueling business success."
When employees submit reviews about their company on Glassdoor, they are asked to rate various factors about their employment experience. This includes not just their overall satisfaction, but also other workplace attributes like senior management. King's remarkable score was based off reviews submitted by employees who were asked to rate whether they approve, disapprove or are neutral about the job their CEO is doing.
Glassdoor's Top CEOs in 2019 were determined using company reviews shared by employees between May 2, 2018, and May 1, 2019. The final list is compiled using Glassdoor's proprietary algorithm, led by its Economic Research Team, and takes into account the quantity, quality and consistency of reviews.
Harry Langenberg, Optima's managing partner, wasn't surprised to hear King made the list of top CEOs for the second year in a row. "David's passion and commitment to our staff are unrivaled," said Langenberg. "We're all very fortunate to have him captaining our ship."
Optima's sustained dedication to its employees, clients and the community has also been recognized by the Orange County Register, which has named the company a Top Workplace each of the past four years, and by Glassdoor previously, which placed Optima on their 2019 Best Places to Work honor roll.
About Optima Tax Relief
Optima Tax Relief is the nation's leading tax resolution firm providing assistance to individuals and businesses struggling with unmanageable IRS and state tax debts. Optima's commitment to delivering unparalleled service and results has transformed the tax resolution industry and earned the company numerous honors, including the Torch Award for Ethics from the Better Business Bureau of San Diego, Orange and Imperial Counties, and OneOC's Civic 50. Offering full-service tax resolution and employing over 500 professionals, Optima has resolved over a billion dollars in tax debts for their clients, helping their clients achieve a better financial future by making their tax issues a thing of the past.
Optima Tax Relief media contact: Brent Rickles, brickles@optimataxrelief.com
About Glassdoor
Glassdoor combines all the latest jobs with millions of reviews and insights to make it easy for people to find a job that is uniquely right for them. The company is on a mission to help people everywhere find a job and company they love. In pursuit of the mission, Glassdoor helps employers hire truly informed candidates at scale through effective recruiting solutions like job advertising and employer branding products. Launched in 2008, Glassdoor now has reviews and insights for approximately 900,000 companies located in more than 190 countries. For more information, visit glassdoor.com.
Glassdoor media contact: Amelia Green-Vamos, pr@glassdoor.com
Source: Optima Tax Relief
Tags