OneVPN Opens Up the Gates to Rio Olympics Closing Ceremony Live Streaming
It's almost time to say your goodbyes to Rio Olympics as its grand closing ceremony is about to be held on 21st of august 2016. Millions of fans will be watching Rio Olympics Closing Ceremony using OneVPN.
Press Release
-
Aug 19, 2016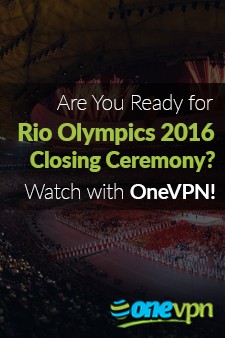 Wan Chai, Hong Kong, August 19, 2016 (Newswire.com) - Rio Olympics has kept people fully entertained and made this summer a spectacular one for everyone. The way events have passed, both good and bad, many athletes have achieved their goals. Whereas, a few of them got tragically interrupted from living their dreams. There is, however, still hope for a lot of athletes to grab that brass ring as there is still some time left in the Rio Olympics closing.
Many people will gather to watch the grand closing ceremony on 21st august 2016 at Maracanã stadium, Brazil. Those who will not be able to watch it at the stadium will be enjoying the ceremony performances at home streaming live. OneVPN has provided "How to Watch Rio Olympics Closing Ceremony Live Online" guide.
People who won't be able to watch via live streaming are offered a hassle-free opportunity to watch Rio Olympics closing ceremony via OneVPN. OneVPN comes with a unique set of features that makes user's experience far better than imagined.
The features include an efficient Ad-blocker which takes away huge annoyance during streaming sessions. OneVPN's WebTV will help users access streaming sites which are broadcasting Olympics at various channels and will also enable user to watch Rio Olympics closing ceremony.
OneVPN's CTO shared his thoughts on the upcoming closing ceremony of Olympics 2016 and how he feels about providing this hassle free opportunity to fans,
"OneVPN feels proud to provide this summer's Olympics fans with the opportunity to watch the grand closing ceremony and watch the final goodbye via OneVPN's Web TV tool. We have put out our best efforts to make users' experience best in terms of quality and service and will continue to do so."
The great grand ceremony of Olympics 2016 will give an entertaining flavour to the ending of this summer's Olympics and the fans who are unable to watch due to Geo-restrictions will be provided with a great opportunity to access all broadcasters. Users are suggested to acquire OneVPN at the earliest because 21st August is not very far now, unless they can afford to miss out on the exciting Olympic Games Closing Ceremony. Subscribe to OneVPN Now!
About OneVPN
OneVPN is a fresh but competitive VPN service that provides people online data protection, anonymity and privacy. It also offers unique set of features that include Ad-Blocker, Anti-Malware, Military-Grade Encryption and 24/7 Live Chat Support.
Source: Unravel Technologies
Share:
---
Categories: Television, Computers and Software, Olympic Sports
Tags: Rio Olympic 2016 live streaming, Rio Olympics 2016, Rio Olympics Closing Ceremony, Watch Summer Olympics live
---