Oktopost Rolls Out Social BI, the First Business Intelligence Tool Powered by Social Data
Press Release
•
updated: Oct 14, 2020
Oktopost will provide its B2B customers with the capability to monitor and analyze social data in a way that is most meaningful to each organization's unique business goals and KPIs.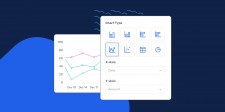 TEL AVIV, Israel, October 14, 2020 (Newswire.com) - Oktopost, the only social media management and employee advocacy platform architected for B2B, has rolled out Social BI, the first business intelligence tool powered by social data.
Oktopost's Social BI is a robust system for creating and sharing custom reports based on social media analytics. The new tool is designed to cater to the unique reporting requirements of every B2B organization, allowing Oktopost's customers to monitor and analyze their data in a way that is most meaningful to their business. Social BI introduces advanced features that will allow Oktopost's customers to leverage their social data across different channels, networks and profiles: a dashboard builder, pre-made dashboards, PowerPoint and PDF exports, and more.
Oktopost's new tool provides the complexity and flexibility of a business intelligence platform while having a familiar, user-friendly interface and intuitive navigation. Social BI guides users through every step of report building with powerful components that help get the most out of social data. Completely unique to the market, Social BI once again proves Oktopost's commitment to being the B2B social tech pioneer and industry leader.
"Social BI is one of the biggest Oktopost features we've ever developed, and we are really proud to bring it to our customers. Now, B2B organizations can completely transform how they report on and use social data as part of their business intelligence - and most importantly, with Social BI, they can get marketing insights that weren't available to them before. To make Social BI possible, we've redesigned our entire reporting infrastructure for increased flexibility and enhanced performance," Liad Guez, VP Product.
"Social BI is absolutely unique in what I've seen in the industry. The ability to quickly build custom reports based on any set of social data and parameters, across all your channels, is a game-changer for us. I look forward to using Social BI to get insights that will help us drive more opportunities," says Leah Dekalb, Social Media Manager at Druva.
To learn more about Social BI and how Oktopost helps enterprises reach their B2B goals, schedule a personal demo on our website.
About Oktopost
Oktopost is the only social media management platform that is architected for B2B and B2C considered purchase companies. Founded in 2013 by B2B SaaS veterans, Oktopost enables marketers to manage and publish content at scale, measure actionable business metrics, integrate social data with their marketing stack, and amplify social reach through employee advocacy.
Source: Oktopost