Oktopost Announces Advanced AI Capabilities in B2B Social Platform
Press Release
•
Dec 20, 2022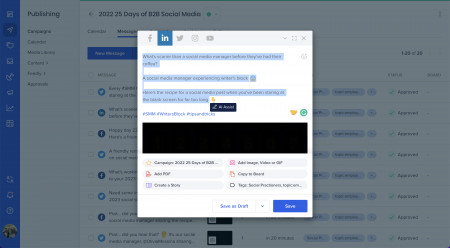 TEL AVIV, Israel, December 20, 2022 (Newswire.com) - Oktopost, the leading B2B social media engagement suite, is excited to announce the increased functionality of its advanced AI features within the platform, which support B2B social media professionals in increasing productivity.
Designed to empower social media teams by allowing them to quickly and easily create diverse messages, adjust length, copy, and tone of voice - Oktopost's enhanced AI functions give social media managers their time back to focus on core content strategy.
The AI features go even further to enable employee advocates to create alternative message options within the platform - increasing advocacy adoption. Streamlining work, inspiring content, and saving time, this cutting-edge technology will enhance and improve efficiencies for B2B social teams and their advocates.
"From day one, our efforts at Oktopost have been concentrated on one mission - to help global social media teams prove the value they bring to the organization. The AI does the heavy lifting in content volume so our social media managers can focus on their overall social strategy. We believe that with these AI enhancements, we're enabling B2B marketers with the technology they need to work more efficiently," says Liad Guez, VP of Product at Oktopost.
Source: Oktopost
Tags