Oktopost Launches Social Media Marketing and Social Selling Solutions for Microsoft Teams and Dynamics 365 CRM
Press Release
•
updated: Feb 17, 2021
New Oktopost's integrations with Teams and Dynamics 365 will help B2B marketing and sales teams centralize communication, improve collaboration, and enhance customer experiences.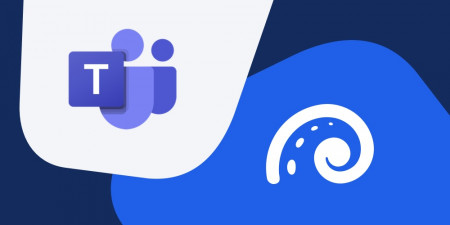 TEL AVIV, February 17, 2021 (Newswire.com) - To help B2B organizations capitalize on the power of social, Oktopost is bringing its best-in-class social media management and employee advocacy solutions directly to Microsoft Teams and Dynamics 365. These integrations will enable Microsoft enterprise users to streamline internal communication and social advocacy, improve customer experiences, and gain a 360-degree customer view as part of the Microsoft ecosystem.
"These integrations can help our mutual customers truly incorporate social media marketing planning, execution, and analytics into their existing productivity tools, enabling them to prove ROI and connect social to the company's bottom line," says Daniel Kushner, CEO of Oktopost. "Together Oktopost and Microsoft allow B2B organizations to maximize the outcomes of social marketing, advance sales and customer support functions, and enhance collaboration."
Oktopost + Teams
Oktopost delivers tools to reach every employee across departments and locations, empowering them to amplify company messages across social channels. This integration helps marketers enhance employee communication with social advocacy and facilitate easy access to company news and updates through Teams. Platform users can quickly discover and discuss advocacy content as well as share it with their social networks in one click, without having to leave Teams.
"In 2021 and beyond, our mutual customers require more advanced solutions for engaging with their own employees such as the integrated social advocacy experiences that Oktopost delivers to Microsoft Teams users," says Mike Ammerlaan, Director, Microsoft 365 Ecosystem at Microsoft Corp. "We are pleased that Oktopost Social Advocacy is available to customers to help them unlock the true potential of social media while staying productive."
Oktopost Social Advocacy app for Teams, now available in Microsoft AppSource, allows B2B marketers to centralize internal communication, increase employee advocacy engagement, and quickly distribute company content to individuals, groups, or across the entire organization. You can find more details here.
"We're excited about this integration and look forward to using Oktopost within Teams. We initially chose Oktopost because of its B2B focus and ability to seamlessly integrate with our marketing and sales stack. Access to Oktopost's capabilities through Teams can help us streamline our social media marketing workflows and boost engagement generated by advocacy content." - says Andrew Davies, Associate Director, Digital Marketing and Creative Services at Capco.
Oktopost + Dynamics 365
Today, B2B decision-makers are spending a lot of time on social media, engaging with the companies they work with and the products they use. Modern digital transformation calls to factor these social interactions into customer experience strategies: social data can help improve how B2B organizations market, sell, and support their products.
By connecting Oktopost with Dynamics 365, marketing and sales professionals can improve customer experiences, personalize sales conversations, and streamline social media attribution, making an impact across the entire organization. Adding social data to Dynamics 365 allows marketers to personalize customer interactions, uncover blind spots in the buyer's journey, and report on how social media impacts sales opportunities. You can find more details here.
Oktopost + Microsoft Azure Active Directory
In addition to integrations with Teams and Dynamics 365, Oktopost has also rolled out Single Sign-on with Microsoft Azure Active Directory (AD), an enterprise identity and access management service. This integration provides Oktopost's users with a quick, secure way to sign in to the platform and allows organizations to seamlessly control which users have access to Oktopost using Azure AD. The pre-configured Oktopost app is available in Azure AD App Gallery.
Source: Oktopost