OBSR Coin Will Be an Official Fork of PIVX Blockchain
Press Release
-
updated: Oct 15, 2018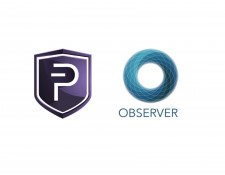 LAS VEGAS, October 15, 2018 (Newswire.com) - Taeill Cho, Co-Founder of OBSR made a Memorandum of Understanding (MOU) with the founder of PIVX Coin. OBSR sent a representative to Las Vegas, Nevada this weekend to shake hands with the PIVX leader in person ahead of announcing official plans. In their MOU, James Burden, Founder of Private Instant Verified Transactions (PIVX) gave his consent and approval to The Co-founder of Observer Coin (OBSR) to launch an official fork from the existing PIVX blockchain.
Much like the term "A fork in the road", the new OBSR forked chain will branch from the established PIVX code base and foundational blockchain protocol, in an entirely new, functioning blockchain, independent from any other chain. The PIVX team is going to continuously assist the already advanced team of developers within OBSR. PIVX will be present in a tech-supportive way, offering OBSR updates and bug fixes as they become available.
Before meeting colleagues face-to-face the PIVX founder was asked directly, "How do you feel about OBSR forking from your blockchain?" Burden explained his expectations in a pragmatic challenge.
"If a project wants to clone us and do something to improve our work with an original idea we are all for it. We will be working on a program to highlight these projects, who meet a certain set of criteria. Though this won't be an official endorsement, we will offer them private notification of exploits and major issues etc. and an option for support if needed," said Burden. After a pause, he showed a hint of encouragement when he said, "It seems OBSR is doing well so far." 
As cryptocurrency gains popularity in all parts of Asia, the technology behind blockchain has attracted aspiring development teams to the cryptocurrency arena. South Korea has been dominating cryptocurrency headlines, so it comes as no surprise that the well-known privacy-focused PIVX coin has made a lasting impression in Seoul, South Korea.
Media Contact Taeill Cho, Admin@obsr.org
Observer Foundation
Narva mnt 5, Kesklinna district,
​Tallinn city, Harju county (10117), Estonia
Learn more about OBSR here. ​
Source: Observer Foundation
---
Categories: Cryptocurrency
Tags: altcoins, blockchain, cryptocurrency, Observer Foundation, OBSR, PIVX, Seoul, weather data
---