Observe World Day Against Trafficking With 'Operation Toussaint', a Stunning Adaptation of a Documentary Depicting the Horrors of Child Trafficking
Press Release
•
updated: Jul 29, 2020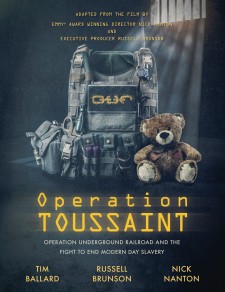 NEW YORK, July 29, 2020 (Newswire.com) - Morgan James's release, Operation Toussaint, by Timothy Ballard, Russell Brunson, and Nicholas Nanton, is an adaptation of the documentary film, Operation Toussaint, which describes how an Ex-Special Agent and Operation Underground Railroad are saving children from sex trafficking worldwide. After leaving his position with the U.S. Government, Timothy Ballard created Operation Underground Railroad, where he and his team rescue victims of child sex trafficking across the world. Operation Toussaint focuses specifically on Ballard's work in Haiti and his mission to end modern-day slavery.
Operation Toussaint uses editorial photography, dialogue transcriptions and stunning graphics from the documentary to spread its message. Timothy Ballard shares the ugly truth behind human trafficking: that the United States is the top consumer of child pornography in the world, which directly contributes to the demand of child sex slavery. Ballard feels a strong sense of responsibility to the children being sold, both as a father and as a United States citizen, and refuses to rest until those who have stolen these children are brought to justice.
Timothy Ballard is not afraid to go to the darkest corners of the world and, with the aid of local teams, arrest child traffickers and rescue children wherever he can. By honestly sharing his experiences in Operation Toussaint, Ballard hopes to inspire men and women to take action in their communities and get involved in the movement to end child sex trafficking.
This year, World Day Against Trafficking in Persons will be observed on July 30. The focus will be to honor the first responders to human trafficking, those who work in a variety of roles: "identifying, supporting, counseling and seeking justice for victims of trafficking, and challenging the impunity of the traffickers" (United Nations).
If you would like more information about this topic, or to schedule an interview with Timothy Ballard, Russell Brunson, and Nicholas Nanton, please call Nickcole Watkins at 516.900.5674.
About the Author:
Timothy Ballard is the founder and CEO of Operation Underground Railroad, which rescues children from sex trafficking rings. He has over a decade working as a Special Agent for the Department of Homeland Security, where he was deployed as an undercover operative for the U.S. Child Sex Tourism Jump Team. Ballard continues to work undercover in the United States and in multiple foreign countries infiltrating child-trafficking organizations. He resides in Utah.
Russell Brunson has a following of over a million entrepreneurs, sold hundreds of thousands of copies of his books, DotCom Secrets and Expert Secrets, popularized the concept of sales funnels, and co-founded a software company called ClickFunnels. He resides in Boise, Idaho.
Award-winning Director and Producer, Nicholas Nanton is a leading expert on branding and storytelling. Nick has authored over two dozen Best-Selling books and produced and directed more than 40 documentaries, earning five Emmy® Awards and 18 nominations. Nick lives in Altamonte Springs, Florida.
# # #
Source: Morgan James Publishing
Additional Links