Novatech Opens New Office in Missouri
Five Years After Acquiring Malden, Missouri, Business, Growth Drives Expansion
Press Release
-
updated: Nov 21, 2018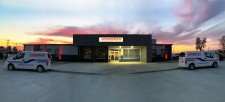 MALDEN, Mo., November 21, 2018 (Newswire.com) - Managed IT and Print Services provider Novatech has completed one of the first new construction projects in recent years in Malden, Missouri. After acquiring Shelton Business Machines five years ago, the newly enhanced scope of solutions from Novatech and the increase in local personnel created a need for a larger, more dynamic facility. "We were excited to partner with the Shelton family to continue their legacy in the Malden area, and we knew such a growth-focused city would provide the partnerships and opportunities needed for future expansion," said Novatech CEO Darren Metz. "We got great DNA from before, added it to our existing formula for success, and worked with the city of Malden to build our new home from the ground up."
Through local government activation of federal surplus land, Novatech acquired an anchor location at the Malden Industrial Park. The new building is a big sign of success for the small Missouri town. Representing the city was Malden Mayor Denton Kooyman, joining other leaders and customers in attendance at the festive grand opening for the location on Nov. 13. Enjoying a backdrop of music and tasty catered fare, over 100 guests gathered to celebrate the ribbon-cutting of this new Novatech branch. The ceremony included special recognition by CEO Darren Metz of the Shelton family's contribution to Malden and Novatech's pledge to honor their roots moving forward. A placard has been placed at the location as a way to share the proud Shelton history with visitors to the branch.
The city of Malden has a storied history of its own. The town's origin can be traced back to 1877, but the most dynamic portion of Malden's story took place during and after World War II – on the same soil Novatech now occupies. The small Missouri town once hosted the Malden Army Airfield. Opened in 1943, the facility supported pilot training until 1945, becoming a local government property and regional airport in 1948, and was later reactivated as Malden Air Base during the Cold War in 1951. Graduating its last class of pilots in 1960, the field continues to serve as a general aviation staple in the area and its large runways can accommodate nearly any modern aircraft.
Continuing to benefit from the local services offered by Novatech is a major advantage to the surrounding community. The company carries on existing business technology repair, sales and leasing while adding the resources and buying power of their thriving, multi-state operation. Cecelia Eaves, IT manager for landscaping products manufacturer Dewitt Company, is one of many local clients for whom this branch is an essential and meaningful resource. "Novatech provides big business products and support to rural areas," said Eaves. "They have gained our trust and loyalty with the best product, support and price to assist our company." Branch Manager Penny Loughary says this kind of feedback keeps her team energized every day. "That's the kind of community feel we love. I don't just work here. I'm helping my friends and neighbors."
"No matter how much we grow, local roots and relationships are at the heart of our mission to flourish as a team and care for our customers," Darren Metz added. "Our company has the honor of joining hands with an ever-growing extended family as we expand and it means the world to me that we're able to continue legacies like the one in Malden."
Novatech is located at 3001 North Douglass Street, open Monday through Friday, and offers on-site service within 90 miles of its branch location.
About Novatech Inc.
Novatech is an award-winning, Managed IT and Print Services provider offering on-site and remote support of network infrastructure and peripherals. Founded in 1998, Novatech has been recognized 12 times by Inc Magazine for being one of the fastest-growing companies in the United States. With 13 locations and revenues of $92 million, Novatech offers free cost analysis so customers may easily choose the exact solutions, equipment, accessories and software to meet their needs – within their budget. For more information, visit www.Novatech.net. Follow @novatechnet on social media for all the latest news.
Media Contact:
Jason Levkulich
Phone: 615-577-7677
Email: J@Novatech.net
Source: Novatech Inc.
Share:
---
Categories: Business Technology, Growth and Expansion
Tags: Darren Metz, Malden Missouri, Managed IT, Novatech
---