NovaCopy Team Member Wins "Everyday Hero Award" for Work With Best Buddies Tennessee!
ECi Software Solutions provides gift of $500 to charity on behalf of NovaCopy's Philip Dugan.
Press Release
-
updated: Nov 20, 2017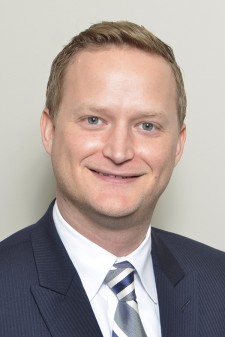 Nashville, Tenn., November 20, 2017 (Newswire.com) - NovaCopy Account Executive Philip Dugan was recently awarded for his work with Best Buddies Tennessee. The award was given by ECi Software Solutions as part of their "Everyday Hero Award" contest – and Dugan landed in the Top 10 for his story detailing his work and outreach with Best Buddies.
Best Buddies is a non-profit organization that serves people with Down syndrome, autism, Fragile X, Williams syndrome, cerebral palsy, traumatic brain injury and other undiagnosed disabilities. The Best Buddies mission includes creating opportunities for one-to-one friendships, integrated employment and leadership development for people with intellectual and developmental disabilities.
A little over a year ago, Philip Dugan met with the area director of Best Buddies, Kristen Starcher who informed him of their need for an office copier and related services. Dugan conducted his usual workflow analysis but was captivated by their mission and vision.
Dugan, originally from Chattanooga, says he has participated with similar organizations in the past. While working with Starcher, he began to support Best Buddies outside of work. From attending local events to recruiting supporters including leading a local company fundraiser at NovaCopy (where he found many other team members equally excited about supporting the worthy cause).
"I'm not a spokesperson for Best Buddies, says Dugan. I'm just trying to help them out where I can, and help raise awareness even with coworkers. I scheduled a "Lunch-n-Learn" here at our office. It's just something I enjoy doing!  If you'd see the people who are part of this organization – it's just truly inspiring. At the same time it gives all of us at NovaCopy a chance to give back to our community, which is great."
Dugan, through NovaCopy, created a partner program allowing the company to participate at events such as the Best Buddies annual gala and 2017 Friendship Walk – events where aside from working and spending time with the young "buddies," he also gets to network with community business leaders who sponsor similar programs with the organization.
Dugan has been with NovaCopy for just over 2.5 years and is working to ensure the company's mission of delivering outstanding equipment and service performance beyond the customers' expectations is an everyday reality for businesses in Middle Tennessee.
"What Philip is doing, the values he personifies through his community involvement and customer service, his dedication to his career, is exactly what we seek to instill amongst our team," said NovaCopy President Joe White. "We congratulate Philip on this recognition from ECI. The world is filled with everyday heroes whose hard work and efforts inspire us all, and to know one is just around the corner…"​
                                                 ###
Philip Dugan is a Belmont MBA graduate and received his undergraduate degree from UT Chattanooga. Philip lives in Nashville with his wife Erica and their dog Taco. They enjoy traveling, camping with friends and attending live music shows in Nashville. 
For more information contact Jason Levkulich, Director of Marketing for NovaCopy. 615.577.7677​
Source: NovaCopy
Share:
---
Categories: Business Technology, Marketing, Printing
Tags: Best Buddies, Everyday Hero, NovaCopy, Philip Dugan, Print Technology, Printing
---