NFL 'Super Agent' Leigh Steinberg and Former Vice Chairman of the NASDAQ David Weild to Host the InvestAcure Cure Coin Awards Reception During the Alzheimer's Association International Conference
Press Release
•
updated: Jun 28, 2019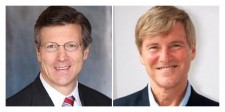 NEW YORK, June 28, 2019 (Newswire.com) - InvestAcure, PBC announced today that NFL 'super agent' Leigh Steinberg and former Vice Chairman of the NASDAQ David Weild VI will host and keynote at the Cure Coin Awards Reception on July 15, during the Alzheimer's Association International Conference in Los Angeles. The reception will bring together key stakeholders in the battle against Alzheimer's, Dementia and CTE to honor industry scientists working to develop groundbreaking discoveries into effective treatments.
Often credited as the inspiration for Tom Cruise's eponymous character in the film Jerry Maguire, as an agent, Leigh Steinberg represented 300+ pro athletes, including eight first-overall picks in the NFL draft. With an unrivaled history of record-setting contracts, he has secured over $3 billion for his clients and directed more than $750 million to various charities around the world. An advocate for NFL player safety, Steinberg supports increased research into the long term effects of head injuries and CTE, which he will speak on at the reception.
An influential finance personality, David Weild IV, has served as Vice Chairman of the NASDAQ and is often referred to as the 'Father' of the JOBS Act for his role in shepherding the 2012 Jumpstart Our Business Startups Act legislation through Congress. Weild IV is now a Co-Founder and Vice Chairman of InvestAcure, PBC.
About InvestAcure, PBC
InvestAcure, PBC is a finance company building an investment platform to enable individuals who share a 'Common Need' to see progress in developing a cure for Alzheimer's to automatically round up purchases and invest the change in a portfolio of companies working on effective treatments. The event program includes a presentation by the company's Founder and CEO, Max Tokarsky, on their plans to drive $1 billion in annual investment for Alzheimer's R&D until a cure is found.
Todos Medical, a clinical-stage in-vitro-diagnostics company developing the LymPro Test, an Alzheimer's blood test currently in clinical trials, is a sponsor of the event.
The reception will be held at 7:00 p.m. at The Association on 110 E 6th Street in Downtown Los Angeles. InvestAcure welcomes members of the press to request attendance at the event. The event is expected to be at capacity, so please register as soon as possible. For additional details and registration, please visit the event page.
Source: InvestAcure, PBC