Newfrog Sales Powerful Oukitel K10000 With 10000mAh Battery Only $99.99 on the World
Press Release
•
updated: Mar 10, 2016
Newfrog will carry out promotional activities of OUKITEL K10000 on Mar. 7th,OUKITEL K10000 will be OFF 60%, only sale $99.99.features world's largest battery at 10,000 mAh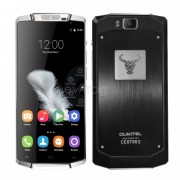 shenzhen, China, March 9, 2016 (Newswire.com) - ​With all the mobile phone releases that happen over the course of a year, it's easy for certain models to slip past the radar. Especially since most models only improve slightly over previous versions. So it's refreshing when mobile phone makers keep up a good level of innovation with every model and continue to push the envelope when it comes to new (and useful!) features. Such is the case lately with Oukitel. Lately this company seems to be pulling away from the pack with refreshingly big improvements with each model. Case in point….the Oukitel K10000 which is pushing boundaries and coming up big for users all at a price that will leave their competitors racing to catch up.
Anyone familiar with Oukitel knows that they have a reputation built on tough construction and long battery life. Their recent K4000 is an example with heavy duty glass and a battery capacity north of 6000 mAh. Well, the new K10000 takes this concept and carries it further still.
Starting with the body, it uses atough Hexa-faceted full steel mid-frame design, with angled edges that feel smooth and secure in the hand, yet help to mitigate damage in the event of an untimely drop. The gorgeous 5.5" HD IPS 1280x720 pixels displayis ultra-responsive and protected by super hard and scratch resistant Corning Gorilla Glass that gives it an 86% screen to body ratio for a larger usable screen. At 13.9mm thick, it's not the thinnest phone out there but it is understandable when one realizes the power that lurks inside….
The K10000 as its name suggests, carries an astonishing 10,000 mAh on-board battery. To call that large would be an understatement and the performance is just as impressive. Oukitel is specifying 10-15 of normal use between charges! An incredible benefit to power users, business people, and travelers. Perhaps best of all is that fact that Oukitel includes a heavy duty 9V/2A output flash technology charger that uses a unique pump-express mode to charge the 10,000 mAh battery within 3.5 hours, truly stunning.
If anyone is wondering what they would do with all that power, it should be noted that the K10000 offers an OTG function to reverse charge multiple devices and the same time. In other words, the K1000 becomes a phone and power center in one, something everyone can appreciate.
Before anyone thinks the K10000 is all brawn and no brain, remember that it features a capable MTK6735 Quad Core, 1.0GHz with 2GB of RAM and Android 5.1 Lollipop for a great user-friendly operating system and Android's seemingly endless array of apps. It is 4G capable and comes with dual SIM dual standby as well as the ability to accept a TF card up to 16GB.
When it comes to the cameras, an important feature for all, the OUKITEL K10000 4g gets dual cameras – 13MP rear and 5MP front with up to a 1600 ISO sensor that delivers great color reproduction, crisp photos both day and night, and a preloaded HDR function for trouble-free photography.
Finally, in a nod to ergonomics and ease of use, the K10000 has a powerful gesture control system that can unlock the phone or access any app using pre-set gestures or those which the user can set.
Calling the Oukitel impressive doesn't do it enough justice. With the full feature set, solid performance, smooth operating system and gorgeous screen, it will satisfy most users easily and when the power and battery capacity is factored in, along with reverse charging capabilities, there really is no competition at this price. A stellar phone at its price point and really in a class of its own.
Newfrog will carry out promotional activities of OUKITEL K10000 on Mar. 7th,OUKITEL K10000 will be OFF 60%, only sale $99.99 at OUKITEL K10000 $99.99 activity on Mar.12.
Related Media
Tags
Additional Links