New Workbook by Internationally Renowned Business Consultant Jack Veale Outlines a Checklist of Critical Decision-Making Nobody Wants to Think About
Press Release
•
updated: May 28, 2020
In the wake of COVID-19, it has become clear that planning is key for both families and businesses.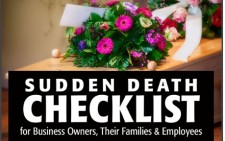 HARTFORD, Conn., May 28, 2020 (Newswire.com) - ​​​​Business consultant, Jack Veale, has assembled a workbook, The Sudden Death Checklist, that assists business owners in putting together a well-thought-out plan. A plan not for their own purpose but rather their professional advisors (legal, financial, medical), their caregivers, their senior company employees, and their families to take action and have the tools they need during the pre-funeral timeframe.
The Sudden Death Checklist outlines all of the things business owners need to be considering to help their loved ones avoid any additional pain, confusion, and cost during the pre-funeral stage.
A few of the questions discussed in the workbook are:
Do you have a phone tree contact list established?

Who has power of attorney for the deceased?

Who has guardianship of pets?

What's different about preparing for a veteran's funeral?

What funeral home will be used?

How to protect the house while the family is at the wake?

What about organ donation?

Cremation or burial?

What cemetery?

Has a monument or headstone been purchased?
Jack Veale explains, "Business owners often just don't understand the stress that their unexpected death will put on their family and company. By sitting down with their family and key advisors and going through a systemized checklist, the business owner can alleviate that stress and prepare his family, trustees, and executor before the crisis emerges."
About the Sudden Death Checklist Workbook:
The workbook is intended to be used by business owners, trustees, and executors in conjunction with their key advisors (such as the family/corporate lawyers and wealth advisors) and their spouses/partners. It guides them in the process of working through the gathering the information that is required in the case of the business owner's sudden death.
The workbook includes comprehensive checklists and instructions for an array of topics including:
The Pre-Funeral Checklist
The "Live" Funeral Checklist
The Post-Funeral Checklist
The Pre/Live/Post Funeral Company's Checklist
The Veteran's Checklist
By using the "Sudden Death Checklist" that the business owner has wisely left behind for them, the surviving family and his company have easy access to all the documents that will be needed to process the estate and transition the business.
About Jack Veale
Jack Veale, CMC, is an internationally recognized consultant who advises closely held, family-owned companies, including ESOPs, on business succession, ownership strategy and leadership development. Jack uses many tools to assess the organization on culture, leadership, and operating performance. Over the last 25 plus years, Jack has assisted hundreds of companies in many industries and countries, offering solutions covering strategic planning, succession planning, corporate governance, team training, and crisis management.
Jack has authored or co-authored several books, including "Creating Strategic Innovation," "Don't Do That!" and "Sudden Death Checklist."
Contact:
To learn more about the "Sudden Death Checklist," please contact
The "Sudden Death Checklist" Launch Team at:
PTCFO, Inc
48 Walkley Road, West Hartford, CT 06119-1345
Phone: 860.232.9858
Source: Sudden Death Checklist Podcast