New TEDx Talk Now Available; #GiveGreatVoice the Remarkable Power of Tone and Intent in Everyday Speech
Press Release
•
updated: Feb 25, 2020
EMMY and Telly award-winning voice actress Tasia Valenza shares insights on harnessing the power of tone and intent in her newly launched #GiveGreatVoice TEDx Talk.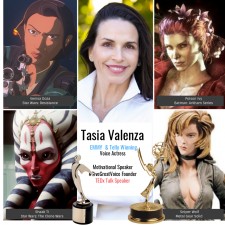 LOS ANGELES, February 25, 2020 (Newswire.com) - ​Voice is a surprisingly powerful tool. And it can be easily trained. In an entertaining and tip-filled TEDx Talk, EMMY and Telly-winning voice actress and motivational speaker Tasia Valenza shares her unique and simple techniques on how to use tone and intent to #GiveGreatVoice in everyday speech.
Valenza shares, "The way people speak to themselves and others is pivotal to their success. Our voices complement the roles we play and our intentions when relating to one another. When we employ these influential skills can enhance both professional and personal relationships. Messages will be received the way they were intended."
Tasia Valenza is an EMMY and Telly award-winning voiceover artist, actress, and motivational speaker. Renowned for voicing iconic female characters in video games and animated television shows, such as the seductress Poison Ivy in the Batman: Arkham Series, Venisa Doza in Star Wars Resistance, Shaak Ti in Star Wars: The Clone Wars and Sniper Wolf in the fan-favorite Metal Gear Solid games, Tasia voices countless commercials, animated series, video games, narrations, promos, and radio imaging. These experiences inspired the creation of #GiveGreatVoice, a platform that encourages confident, considerate verbal communication. Additionally, Valenza has co-created and voiced a free-to-use, science-based affirmation meditation app, Haven, with the hopes of helping people rewire their brains for peace of mind.
Watch Tasia Valenza's TedxTalk https://www.youtube.com/watch?v=MR9qqiK7tR0
@TasiaValenza on all socials​
About TED
TED is a nonprofit organization devoted to Ideas Worth Spreading, usually in the form of short, powerful talks (18 minutes or fewer) delivered by today's leading thinkers and doers. Many of these talks are given at TED's annual conference in Vancouver, British Columbia, and made available, free, on TED.com. TED speakers have included Bill Gates, Jane Goodall, Elizabeth Gilbert, Sir Richard Branson, Nandan Nilekani, Philippe Starck, Ngozi Okonjo-Iweala, Sal Khan and Daniel Kahneman.
TED's open and free initiatives for spreading ideas include TED.com, where new TED Talk videos are posted daily; the TED Translators Program, which provides subtitles and interactive transcripts as well as translations from thousands of volunteers worldwide; the educational initiative TED-Ed; the annual million-dollar TED Prize, which funds exceptional individuals with a "wish," or idea, to create change in the world; TEDx, which provides licenses to thousands of individuals and groups who host local, self-organized TED-style events around the world; and the TED Follows program, which selects innovators from around the globe to amplify the impact of their remarkable projects and activities.
Media Contact:
EPEC Media Group, Inc.
Source: Tasia Valenza
Tags
Additional Links