New Captain Scarlet Returns to Fight Against the Mysterons on Amazon
Free HD episode released on YouTube in celebration
Press Release
-
updated: Oct 6, 2017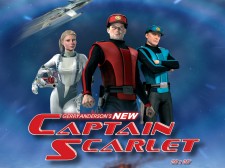 HOLLYWOOD, Calif., October 6, 2017 (Newswire.com) - Gerry Anderson's CGI series New Captain Scarlet will be released exclusively on SVOD on Amazon Prime through Vision Films. The high definition episodes launch today on the 50th Anniversary of its predecessor — the classic 1967 series "Captain Scarlet and the Mysterons."
To celebrate the release, the episode "Rat Trap" will be available on the Gerry Anderson Official YouTube Channel and Facebook page until Oct. 31, for fans to experience Gerry's reimagining in high definition, free of charge.
Gerry Anderson's classic cult 1960s TV series was reimagined for the 21st century by Gerry Anderson and his production company Anderson Entertainment in 2005. The retro-metabolised version of the iconic children's show is called "Gerry Anderson's New Captain Scarlet" and used motion-capture CGI Hypermarionation instead of the traditional Anderson puppets, giving the show a fresh, modern look.
Worldwide Distributor Vision Films is releasing both Seasons 1 and 2 (26 episodes) globally on Vimeo on Demand. Both seasons will be available on Amazon Instant Video in the U.S., Germany/Austria, and Japan. Amazon Prime users in Australia, Belize, Canada, Denmark, Finland, Iceland, New Zealand, Norway, South Africa and Sweden will be able to watch "New Captain Scarlet" in its entirety beginning Sept. 29. In the U.K., a special edition of the DVD and Blu Ray will be released through Network Distributing Ltd. This special collector's edition with episode-specific audio commentaries with voice artists David Lane and Wayne Forester, and the late Gerry Anderson himself will also be available in the USA on Oct. 24 on Amazon and other online retailers. This will be the first official release in the United States.
Lise Romanoff, Vision Films' Managing Director and CEO says: "New Captain Scarlet's timeless characters, high production values and intelligent storylines appeal to both male and females alike across multi-generations. It's something the whole family can watch. If you are not a fan yet, you will soon be one!"
"New Captain Scarlet" was the last TV project that Gerry Anderson oversaw before his passing in 2012, at 76, during the making of the show. His passion for entertaining, and inspiring audiences lives on in "Captain Scarlet" and Gerry's son, Jaime Anderson is proudly keeping the legend alive.
Series synopsis:
In the year 2068, peace on Earth is maintained by the Spectrum Organization, with color-coded agents led by Colonel White and the Angels, a crack team of female fighter pilots. After an altercation and an unprovoked attack on the Mysterons on Mars, the Earth is plunged into conflict, with only Spectrum standing in the defense of Earth.
The Mysterons become sworn enemies of Earth, cunning opponents able to recreate exact likenesses of objects or people. But first they must destroy…
Two Spectrum agents lead the fight: Captain Black, who is corrupted by the extraterrestrial menace. And one man fate has made indestructible. His name, Captain Scarlet.
For further information please contact:
PPMG: Nicole Newton-Plater – nicole@ppmg.info 
Sicily Publicity: Sisi Cronin – Sisi@sicilypublicity.com
About Vision Films
Vision Films is an Independent Worldwide Distributor and VOD Aggregator of over 800 Feature Films, Documentaries and Music Programs across all available rights from Theatrical, DVD, Television and VOD/Digital Media in both the International and Domestic marketplaces.
** Jamie Anderson is available for interviews upon request **
Gerryanderson.co.uk / Twitter: @GerryAndersonTV / Facebook: Official Gerry Anderson / Instagram: @GerryAndersonTV / YouTube  / www.visionfilms.net
Source: Vision Films
Share:
---
Categories: Movies, Arts and Entertainment, Cartoons
Tags: Amazon, Captain Scarlet and the Mysterons, CGI, Gerry Anderson, Jamie Anderson, New Captain Scarlet, Vision Films
---