New Additional Guidelines for Noisy Hotels and Soundproof Products
Press Release
-
updated: Jun 7, 2017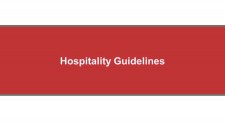 Amsterdam, Netherlands , June 7, 2017 (Newswire.com) - The Quietroom foundation has released a new, revised edition of the Handbook Qualification Quietroom Label. The handbook describes the certification process required to obtain the Quietroom label. It contains detailed information about the standards and measuring procedures used to certify hotel rooms.
It is aimed primarily at acoustic consultants who are engaged in the soundproofing, measurement and certification process of hotel rooms. The handbook provides a step-by-step guide to the measurement and certification process.
The handbook is also a valuable guide for hoteliers, builders and developers seeking more information on certification and demonstrates the solid and objective standards on which the Quietroom label is based.
Apart from the certification of hotel rooms, the same standards are now also applied to examine and certify soundproofing products and procedures. The Quietroom foundation is developing a freely accessible database of manufacturers of certified products and procedures, which will help hoteliers and developers to construct hotels rooms that are guaranteed to have a high level of soundproofing.
The handbook Qualification Quietroom label may be obtained by contacting the Quietroom foundation at:
Alice@quiethotelroom.org
Foundation Quietroom
Keizersgracht 241
1016 EA Amsterdam
www.quiethotelroom.org/en
Source: Foundation Quietroom
Share:
---
Categories: Architecture and Design, Construction, Hospitality, Business Travel, Travel, Transportation, and Hospitality News
Tags: architect, architecture, building, construction, design, hotel, hotelroom, hotels, noisy, product, quiet, soundproof
---