NeuroTags Selected by The Kind Pen as Its Anti-Counterfeiting Solution Provider
Press Release
•
updated: Feb 26, 2019
NeuroTags - Award-winning AI and Consumer Powered Anti-Counterfeiting Solution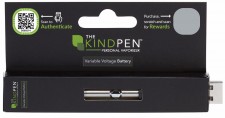 SAN JOSE, Calif. , February 26, 2019 (Newswire.com) - The Kind Pen, the cannabis industry's award-winning personal vaporizer brand, has selected NeuroTags to protect its distributors, dispensaries, consumers and its brand from the industry's mounting problem with counterfeiting. Counterfeiting is estimated to be a $1.6 trillion dollar global issue. Counterfeit products are typically poorer quality, oftentimes dangerous and damaging to a brand's reputation, resulting in lost sales.
According to Anthony Gagliardi, CEO of The Kind Group LLC, "The rapid growth of the Cannabis industry has made it a high profile target for global counterfeiters. We wanted to find the best available solution to provide assurance at every touch point in our supply chain that the products proudly carrying our brand name were authentic."
NeuroTags provides a unique, patent-pending algorithmic solution embedded in a QR code that can be utilized with any smartphone without the need to download an app. "NeuroTags embedded QR codes are the secret key to our solution," said Harvey Bondar, NeuroTags Managing Director for North America. "Using these keys, the engine that powers our award-winning solution is the cloud based AI system that monitors and oversees the anti-counterfeiting ecosystem we create."
"In addition," says Bondar, "NeuroTags will provide The Kind Pen, with a direct connection to their retail customers, providing them the data, analytics and a marketing platform to drive incremental sales. Expect NeuroTagged Kind products to hit the shelves in the 2nd quarter of 2019.
ABOUT KIND PEN
New Jersey-based The Kind Pen has quickly become one of the world's most trusted brand names in the industry. The Kind Pen vaporizers are an effective delivery system that offers a healthy and affordable alternative to crude resin-filled pipes and bongs. The Kind Pen offers the perfect balance of potency and discreet portability for consumers. With five clicks and a deep breath, The Kind Pen is letting people taste the world in a wonderful new way.
ABOUT NEUROTAGS, INC.
NeuroTags' team of passionate engineers, security experts, marketing and sales people want the "World to be free of Fakes and Counterfeits." The NeuroTags team has previously worked in companies such as Google, VISA, Amazon, eBay, Yahoo, and PayPal. The team understands how to deploy technology to neutralize counterfeiters by using AI for anomaly detection to catch fakes before they proliferate.
NeuroTags uses algorithmically coupled codes (tags) put directly on manufacturer products. A customer simply scans the code with their smartphone to authenticate a product's authenticity.
In the process of doing this, warranty registration or consumer incentives drive the collection of consumer contact information.
CONTACT:
Harvey Bondar – Managing Director, Neurotags, North America –Harvey@neurotags.com- 650-544-6554
Anthony Gagliardi - CEO/Founder, The Kind Group, LLC - Anthony.g@thekindpen.com- 732-374-9905
Source: NeuroTags
Related Media
Tags
Related Files
Additional Links