NeuroTags Inc. Awarded Best in Show at International Anti-Counterfeiting Conference
Press Release
•
updated: Feb 19, 2019
Awarded at COBRA 2019 by Panel of Industry Experts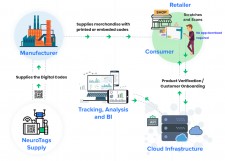 SAN JOSE, Calif., February 19, 2019 (Newswire.com) - ​​​​NeuroTags Inc. ("NeuroTags") is proud to announce it was selected as "The Most Promising Anti-Counterfeiting Solution Provider" at COBRA 2019, an international trade show focused on "Counterfeiting and Brand Protection." This event, held Feb. 5-6, 2019, was attended by major global brands and solution providers interested in this $1.6 trillion and growing global problem.
Accepting the award for NeuroTags was co-founder Abhishek Agrawal who stated, "We are pleased to have received the recognition from this austere group of industry experts that NeuroTags is the solution leader in anti-counterfeiting. It represents the hard work of a highly talented development team that was focused on creating the most powerful and practical solution to this significant, global problem."
Counterfeiting is accelerating while brands lack the technology to effectively fight it. Counterfeiting is expected to reach $4.2 trillion annually by 2022. NeuroTags offers a unique solution in that it empowers every retail consumer to be an anti-counterfeiting agent. "The consumer-driven scalability of this solution is infinite," said Agrawal. "It creates a level of vigilance not possible with any other anti-counterfeiting solution."
"We are honored to have been acknowledged by COBRA," adds Harvey Bondar, Managing Director, North America. "The verifiability of NeuroTags' AI-driven solution makes it an easy-to-implement and powerful solution for any company that is having their brands and products compromised by fakes." NeuroTags protects brands and consumers alike with the end goal of eliminating the economic motivation that exists today for counterfeiters. "Eliminate the profit potential and you've eliminated the problem," concludes Bondar.
ABOUT NEUROTAGS INC.
NeuroTags' team of passionate engineers, security experts, marketing and sales people want the "World to Be Free of Fakes and Counterfeits." The NeuroTags team has previously worked in companies such as Google, VISA, Amazon, eBay, Yahoo and Paypal. The team understands how to deploy technology to neutralize counterfeiters by using AI for anomaly detection to catch fakes before they proliferate.
NeuroTags uses algorithmically coupled codes (tags) put directly on manufacturers' products. A customer simply scans the code with their smartphone to authenticate a product's authenticity. In the process of doing this, warranty registration or consumer incentives drive the collection of consumer contact information.
ABOUT COBRA 2019
COBRA 2019 was the 2019 version of an annual conference that brings together world-leading brands and suppliers to discuss best practices in addressing the global counterfeiting problem.
CONTACT:
Harvey Bondar – President, NeuroTags, North America – Harvey@neurotags.com – +1-650-544-6554
Yogesh Miharia – Sales Head, NeuroTags, Asia – Yogesh@neurotags.com – +91-9975-470-169
Source: NeuroTags Inc.
Related Media
Tags
Related Files
Additional Links