MyNetworkOne, LLC Announces New Client
Warren Honeycutt: An expert in Weight Loss/Management, Fitness & Nutrition
Press Release
-
updated: Jan 11, 2017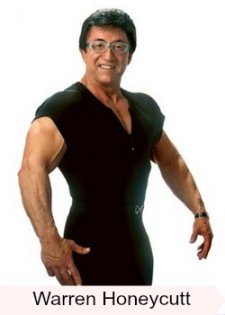 New Port Richey, FL, January 11, 2017 (Newswire.com) - MyNetworkOne, the leading digital sales & marketing products and services solution for small and medium-sized businesses, announced today that it has been named digital marketing agency representing Get Honeycutt, Inc.
Warren Honeycutt, Founder and CEO, Honeycutt, Inc., is a decorated bodybuilder who is America's only Masters Heavyweight to reach the National Physique Committee's Nations Finals for five consecutive years.  He is also the man behind his own weight-loss system called Get Honeycutt.
"Warren Honeycutt has an incredibly rich story to tell as an expert in Weight Loss/Management, Fitness and Nutrition," said Ed Klaameyer, president, MyNetworkOne.  "We look forward to partnering with Warren Honeycutt as we draw upon our diverse team of specialists to elevate and promote the Get Honeycutt enterprise brand."
The Get Honeycutt program is using the latest in LIVE Video Streaming to bring Warren into the comfort of a home, three times per week for only $4.99 per month!  This is great for stay-at-home moms/dads, the elderly, home-bound individuals, those on military assignment or anyone who does not want to workout in a gym atmosphere.
Warren Honeycutt is a six-time Mr. America finalist and at age 63, he enjoys perfect health without any prescription medications and a physique that is the envy of most 25-year-olds.  Honeycutt is a popular speaker on fitness and nutrition topics and is the author of the popular book, What in the Health is Going On? 7 Keys to Success. Often referred to by the media and public alike as 'this era's Jack Lalanne', his expertise has been featured by NBC, CBS, ABC, LifeExtension, LiveStrong, and is a FOX News Contributor for Health and Fitness, a regular on ESPN's "The Stevie Jay Show" and hosts his own radio program entitled "The Get Honeycutt Show."
"MyNetworkOne is excited to be a part of Warren's journey as he spreads his message of wholeness of Body, Mind and Spirit for lives filled with energy, enthusiasm and passion to millions of people," says Klaameyer.
For more information on Warren Honeycutt, please visit www.gethoneycutt.com/.
MyNetworkOne offers a full array of commercial services for every business – from the local small business around the corner to the very large multi-location corporation.  Website: www.mynetworkone.com/
Explore all MyNetworkOne employment opportunities:
Career Info: www.mynetworkone.com/careers/ 
About MyNetworkOne, LLC
MyNetworkOne is a full-service digital marketing agency with account executives throughout the US and Canada. Our team of developers and designers are focused on delivering quality marketing services that get businesses noticed. MyNetworkOne is constantly evolving to address the needs of our clients and in today's world, with the ability to connect using technology, allows our clients to accomplish their goals from the very best resources available, no matter the geographic location. 
Source: MyNetworkOne, LLC
Share:
---
Categories: Internet and Streaming Media, Healthcare, Sports, Fitness, and Recreation, Exercise and Physical Fitness
Tags: employment opportunities, jobs, sales force
---