Mowies Raises Funds From VC Studio Latin Leap to Expand Its Audio-Visual Content Streaming Platform
Press Release
•
updated: May 6, 2020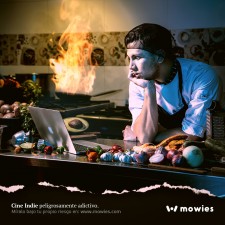 MEDELLÍN, Colombia, May 6, 2020 (Newswire.com) - ​​Mowies, streaming platform leader for the monetization of audio-visual content from Colombia, has raised funds from Venture Capital Studio Latin Leap. The investment and support provided by Latin Leap would help drive further international expansion in Latin America and promote the growth of the film industry.
Through Mowies.com, creators can share their creations and earn money from each person who sees them. Viewers can share creations they like and earn money from each person viewing them. Mowies gives creators the best tools to create, display and market themselves using their social power and crowd distribution models to create highly empowered networks.
Propelled by Covid-19 Mowies is becoming a quality alternative for the cultural sector, one of the hardest hit sectors in the world. The sector has been forced to lower the curtains, close movie theaters and cancel massive events. Mowies offers a "virtual theater" in which audio-visual proposals are offered to the general public.
The global creative industry with its market size of $3.6 trillion represents huge opportunities for the growth of content creators and creative businesses. Of this $3.6 trillion $485 billion belong to the segment of arts and culture.
"Mowies captures the trend towards authentic and diverse content for on-demand consumption by remote audiences. We are proud to be able to support the company's growth trajectory throughout Latin America," said Stefan Krautwald, General Partner of Latin Leap.
LatinLeap.vc, a newly formed Venture Capital Studio focusing on opening up opportunities in Latin America for tech scale-ups, aims to become a key pillar supporting the globalization of the region's tech sector.
Throughout the use of technology, Mowies connects niche audiences brought by each creator to create higher value market segments setting itself apart from other platforms that serve massive audiences such as Hulu, Netflix, Prime Video, Mubi and YouTube. By allowing creators to retain a high revenue share through a social distribution service, Mowies also sets itself apart from competitors.
"Previously the horizon painted very differently for content creators. Now Mowies appears serving as an open bridge that connects with the world. Time has come to give value to artists and creators with sustainable revenue models for every participant in the production chain. This is our great bet and the debate that we have been opening since our inception. With the support from Latin Leap we will be able to accelerate our plan," said Alejandro Arango, Founder and CEO of Mowies.
Within the first 15 months, Mowies successfully delivered more than $400k to its creators. In the last 6 months, Mowies sales grew by 133% driven by the best-performing countries such as Uruguay, Mexico, Colombia, Chile and Spanish speaking audience from the United States. With more than 1500 creations from over 30 countries and over 100,000 monthly active users from 76 countries.
Source: Latin Leap
Additional Links