Most Affordable Cloud-Based QuickBooks Hosting
Press Release
•
updated: Nov 17, 2018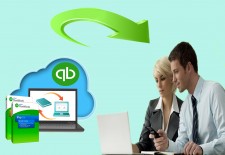 Provo, Utah, May 18, 2017 (Newswire.com) - Cloud accounting has been the single biggest new development in accounting over the last few years. It has allowed CPA firms, small and midsized businesses and individual users across the world access top-rated accounting software such as QuickBooks, ATX Tax Software, Lacerte Tax Software, Sage 50, ProSeries Tax Software, anytime, anywhere, and on any device.
Accountants, tax preparers and bookkeepers no longer need to be confined to their office cubicles. Now, with cloud-based solutions, they can work from virtually anywhere — from home, from a McDonald's or from a beach in Phuket, Thailand.
Cloud-based accounting is the biggest new trend in accounting. Cloudwalk helps CPA firms, SMEs and individual users access these services at the most reasonable prices through its high-performance US-based servers.

Cecile Martin
Cloudwalks is a popular third-party provider of cloud-based accounting solutions. The company provides a range of cloud-based hosting services such as QuickBooks Enterprise hosting and tax software hosting at very reasonable rates, believed to be among the lowest in the industry.
The company has a range of plans for tax and accounting departments within small and mid-sized businesses, for CPA firms and for individual taxpayers. One can sign up for these plans on a pay-as-you-go basis. This means clients need to pay for their services and when they need them, usually for a small monthly fee, can upscale or downscale their plans based on their current requirements.
Clients can expect the latest versions of the software on Cloudwalks. There is no need to pay anything extra for the setup or maintenance. The company provides free technical support as to client as well.
In fact, the quality of the technical support provided to clients is one of the company's core competencies — all tech support agents that work at Cloudwalks are certified IT personnel. They have years of experience in the industry and are fully capable of resolving client's issues when they crop up, quickly and efficiently. They handle all data migrations for new customers for no extra cost.
Not only are the solutions offered by Cloudwalks cheaper, but they also are highly scalable, and can get extended or reduced based on the current operational requirements or storage demands of an organization or individual. It only takes a few minutes to implement changes, such as the addition of new storage capacity or the installation of new applications or add-ons.
Users are assured of the highest level of data security with the company, as their data is protected with double encryption and stored in remote servers that are packed in ultra-secure SAS 70 II and SSAE-16 certified U.S.-based data centers. Further, their data is backed up daily and saved in multiple servers in data centers to prevent any sort of data loss, even in the event of a man-made disaster or a natural catastrophe.
About Cloudwalks Hosting
Cloudwalk is leading third-party provider of cloud-based accounting solutions and has 6 years of hosting experience for the applications QuickBooks, Drake, Sage 50 ATX, Lacerte, ProSeries, and Quicken. We specialize in QuickBooks Hosting but we are not an Intuit Authorized Commercial Host.
We host all versions and editions of the popular accounting applications and support almost all add-ons and other related applications. We take pride in our services and have over 500 QuickBooks Cloud clients among CPA firms, SMEs and individual users across North America, Canada and UK. Our other tax and accounting application hosting services are also very popular.
Source: www.cloudwalks.com