Mid America Logistics Launches "App-Less" Smartphone Tracking
Press Release
•
updated: Feb 27, 2017
Enhancing proprietary technology to include mobile tracking without downloading an app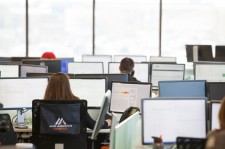 SAINT LOUIS, MO, February 27, 2017 (Newswire.com) - Mid America Freight Logistics, LLC (Mid America) has announced a major advancement in its proprietary Transportation Management Software (TMS). Starting today, Mid America will be offering its truckload carrier partners, shippers and other transportation service providers the ability to provide location, estimated speed, and other transit data through their mobile device without having to download an app.
Unlike other mobile tracking solutions requiring a download of an application, Mid America's technology only requires a truck driver to reply "Yes" to a text message. The location enabled phone or smart phone sends updates back to Mid America's servers. The data is run through proprietary algorithms, alongside traffic and weather information to optimize routing, measure transit times, and predict for its clients and vendors when delays may occur.
"Oftentimes the third-party logistics industry treats driver safety as an afterthought, the Mid America solution was designed with the driver's safety as the priority".

Martin Brading, Managing Partner
One of Mid America's Managing Partners, Martin Brading stated, "Mid America's app-less tracking solution promotes efficiencies not only within our internal business model, but with our drivers and carriers, maximizing all stakeholder's ability to deliver as efficiently as possible."
The software utilizes geofencing to know the shipment has reached its destination, at which point the tracking ceases and delivery is confirmed.
Beyond tracking shipments, the data will also be used to promote driver safety. By calculating average speed and Hours of Service (HOS), the new functionality allows Mid America to ensure compliance with transportation laws, and enhance the Drivers experience by minimizing distractions and interruptions.
Brading went on to say, "Oftentimes the Third-party Logistics industry delegates safety to the drivers and carriers, whereas Mid America's new app-less solution was designed with the driver's safety as the priority."
ABOUT MID AMERICA LOGISTICS
Mid America Logistics is one of the fastest growing technology enabled logistics companies in North America providing full truckload, less-than-truckload and transportation technology services to Fortune 500 clients in the retail, CPG, Industrial and agriculture industries. Based in Saint Louis Missouri near the Fenton Logistics Park, Mid America has a mission statement of being the easiest company to work with in the industry, with plans to open new operations centers throughout the United States. Mid America's website is www.midamlogistics.com.
Media Contact:
Jason Rauschelbach
Phone: 636-529-8252
Email: rausch@midamlogistics.com
Source: Mid America Freight Logistics, LLC
Related Media