Mid America Logistics Announces 'No More Counting Miles' Driver Pay Program
Press Release
•
updated: Mar 13, 2019
Fenton based trucking and logistics company launches innovative driver pay program in an effort to recruit new drivers that provides guaranteed compensation exceeding $100,000 a year for solo Drivers and $250,000 for teams regardless of miles driven.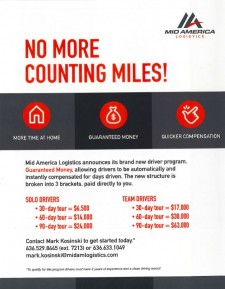 ST LOUIS, Mo., March 13, 2019 (Newswire.com) - Mid America Logistics, one of the fastest growing technology-enabled logistics and trucking companies in North America, has announced a new driver program called 'No More Counting Miles' as a transparent driver pay model.
The program allows single or team Drivers to choose 30, 60, or 90 day tours and provide guaranteed compensation that escalates based on length of the tour. Drivers have control of their start date of each tour and are not obligated to start another tour until they contractually commit to another tour.
Mid America Logistics' Managing Partner and co-founder, Sam Baisch, stated, "The biggest pain point in the trucking industry is staying competitive against over 500,000 registered trucking companies in the US. Our Logistics division has found new innovative ways to over double in size and we used that innovation to create a market disrupter for our trucking division." Baisch continued, "in creating this program we addressed the two greatest irritants of drivers; driver payroll and control of their personal time. This gives the control back in the drivers hands."
Under Mid America Logistics' new program, Solo Drivers are compensated a fixed gross amount of either $6,500, $14,000, and $24,000 for 30, 60, and 90 day tours respectively. Team drivers are compensated $17,000, $38,000 and $63,000 for the same respective tour periods.
Drivers are contracted on tours independently and entitled to the published amounts and paid weekly. They are provided paid orientation for their first tour and issued a late model Freightliner Cascadia Tractor and trailer. If a Driver wishes to continue driving for Mid America Logistics, they simply contract for an additional tour period. Mid America will entertain drivers under this program with a minimum of two years of long haul driving experience and a clean driving and criminal record.
"Oftentimes drivers are lured away based on a promise of making six figures a year and never get the miles to do so," said Ann Searles the Asset Operations Manager of Mid America Logistics. "Now we have the ability to provide a fixed model that is transparent where we pay drivers for their time while respecting their family lives".
About Mid America Logistics
Mid America Logistics is the fastest growing transportation firm based in the Gateway Region. With offices in St. Louis, Charlotte, Cincinnati, Jacksonville, Nashville, Phoenix, Northwest Arkansas and Guadalajara, Mexico, Mid America has made its mark in the fields of trucking, logistics and technology. Employing over 130 employees across seven states, the company offers full truckload, less-than-truckload, and transportation technology services to clients in the food production, retail, CPG, industrial, and agricultural industries. The company has been recognized as a Top Workplace by the St. Louis Post Dispatch and as one of the fastest growing private companies in the the St. Louis Business Journal.
For more information, please call or email:
Mark Kosinski
mark.kosinski@midamlogistics.com
+1 636 529 8445 x7213
www.midamlogistics.com
Source: Mid America Freight Logistics, LLC