MGN Online Celebrates Its 40th Anniversary
Press Release
•
Aug 18, 2022
MGN Online is Happy to Announce Its 40th Anniversary as a News Graphic Service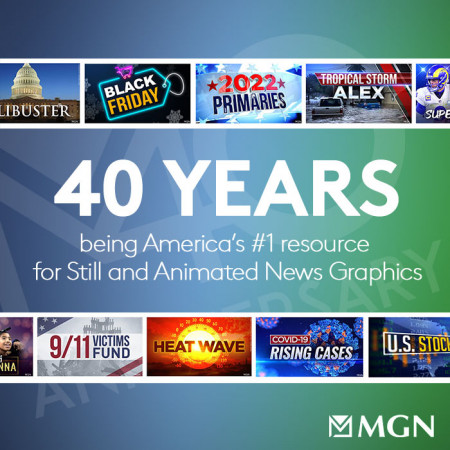 SAN DIEGO, August 18, 2022 (Newswire.com) - In 1982, MGN Online CEO Gill Davis recognized the need for quality News Graphics for the Local Television Broadcast News Industry and launched the first-of-its-kind service, located in San Diego, California. Since that day, MGN Online has been the leading provider of News Graphics with their non-stop evolution in technology that's used to create, store, and distribute content. Today, MGN Online provides content to hundreds of Local Television News Broadcasters, Radio Stations, Newspapers, Academic Institutions, and other Digital News Outlets in the U.S. and Internationally. In addition to technology, MGN Online has been an innovator in the protection of their News Affiliates when dealing with nuisance copyright lawsuits plaguing the news industry.
"In the early days, in what we call the Analog Age, MGN's News Graphics were air brushed, photographed, and developed as 35mm slides and mailed to customers. With technology, changes were needed to deliver News Graphics efficiently and in a timely manner. MGN's website is a Content Management System (CMS) in which Affiliates and our Art Department can exchange information to report the News faster through imagery.
"We want to celebrate this milestone with our Affiliates and expand the universe of News Publishers worldwide trusting MGN with their Graphics," said Gill Davis.
As part of their mission to deliver quality News Graphics to Broadcasters and Digital Publishers, MGN has launched a 40th Anniversary promotion to benefit New and Returning News Affiliates. Multimedia Graphic Network (MGN) has revealed that for any agreement signed in before October, signees will receive a discount on their invoice for half a year.
A picture is worth a thousand words, but News Graphics tell the story.
For 40 years, MGN Online has been America's premier resource for Still and Animated News Graphics.
For more information about MGN Online, their services and free resources they offer, visit www.mgnonline.com.
Contact Info:
Name: Ed Clemente, President / GSM & LCM
Organization: MGN Online
Address: 2533 S. Hwy. 101, Suite 260, Cardiff By The Sea, CA 92007
URL: www.mgnonline.com
Phone: 760-697-1332
Source: MGN Online
Tags