MGN Continues to Provide Support to Affiliates as Pandemic Lets Up for the Summer
Press Release
•
updated: Jul 7, 2021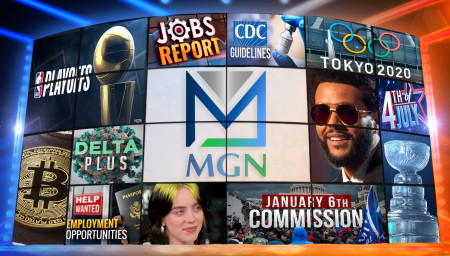 SAN DIEGO, July 7, 2021 (Newswire.com) - As part of their mission to deliver quality News Graphics to Broadcasters and Digital Publishers, MGN has launched a summer initiative to benefit new and returning Affiliates. Multimedia Graphic Network has revealed that for any agreement signed in July or August, signees will receive three months of their choosing at no cost throughout their Agreement.
Affiliates will have the choice of which three months they would like to apply the no-cost opportunity. MGN has said their summer initiative is structured to be of the utmost benefit for customers ... MGN has been channeling their energy towards ensuring their customers and Affiliates are taken care of during the pandemic. This is their latest effort to assist clients who may still be suffering due to the effects of COVID-19 on their company budgets.
New and returning Affiliates will have access to MGN's baseline service, MGNpro.
Among the benefits MGNpro offers, Affiliates will have: thousands of Images sorted into multiple Galleries; convenient licensing for TV, Digital and Social Media platforms; custom News Graphics with MGN's Image Request feature; unlimited downloads 24/7; and MGN's online Graphic Builder - BMOpro.
About MGN Online
MGN Online was founded in April of 1982 in Southern California with the mission to create and provide News Graphics and other News-related image content to News broadcasting industry professionals. With over 39 years of experience in the industry, MGN Online has grown to obtain a lengthy well-diversified number of Affiliates across television, newspaper, web, mobile and a variety of multimedia platforms. Notable networks such as ABC, NBC, CBS, FOX, Telemundo and Univision all make use of MGN Online's News Graphic services daily.
Contacts
Sales
Sarah Paul
sarah@mgnonline.com // 760 633 4784
Ed Clemente
ed@mgnonline.com // 760 697 1332
Branded Content / Marketing
Fabio Pajares
fabio@mgnonline.com // 760 697 9708
Source: MGN