Mexican Rock Band PANTEÓN ROCOCÓ Releases New Album 'Infiernos'
Press Release
•
updated: May 27, 2019
Details of the international tour coming soon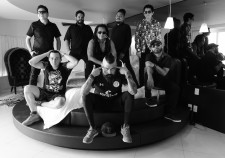 LOS ANGELES, May 27, 2019 (Newswire.com) - ​It took six years to have in hand one of the most anticipated productions by Panteón Rococó, "​Infiernos," their new record and the ninth in the band's career; an unreleased album that demonstrates their inexhaustible creativity formed by 11 tracks.
Nothing worth waiting for is short, especially when it comes to listening to a band that transmits our identity through the sounds of Mexican rock: Panteón Rococó. After 24 years of uninterrupted work - thanks to their energy, humanity, their inclusive attitude and the irreverent joy they provoke - in just eight days, they sold out more than 40,000 tickets for their current show "Infiernos en la Arena" in one of the largest and most important venues in Mexico City. Panteón, with these two proud "sold outs," is a watershed and an emblem of dedication and work that strengthens the Mexican music industry; demonstrating that deep work and the union of wills enhances good music and achieves wonderful results.
"Infiernos" will be presented in its two versions, digital and physical, keeping the essence of the CD alive. The great plastic artist Carlos Herejón was in charge of giving life to the originality and innovation of the visual art for this album, with full mindfulness that many faithful followers and great connoisseurs will recognize its artistic value and the effort to continue maintaining a musical objective with high-quality standards. Panteón Rococó is loyal to the idea of maintaining traditions in the wake of the digital era.
The production of "Infiernos" was under the direction of the three experienced greats of current music: Jorge 'Chiquis' Amaro, Enzo Villaparedes and Álvaro Villagra; it includes multicultural collaborations with great friends and musicians like Los Auténticos Decadentes (Argentina), Dub Inc (France), Jonaz (Mexico) and Ciro Martínez (Argentina).
Let it be remembered that this new production began to see the light with its first single "Tonantzin," followed by "El Último Ska" and, recently, with "Infiernos," the song that gives its name to this album and whose video was recorded in the streets of Berlin, an endearing place for the band; they join the tracklist: Tus demonios, Questo Que' Lotro, Bum, Manifestación, Miradas, Soy peligroso, Alma Cromática and Botellas.
"Infiernos" is a reflection of the inner world of our artists, in which each day they face different circumstances that move and enrich them and make them move from one place to another between loves, work, trips, ideals, dreams, memories, transcendence and madness. All of this is the enjoyment and unfoldment of life itself, although it eventually is a hell (infierno) that we must go through. "Infiernos" is now available in record stores and also in all digital platforms. Two autograph-signing dates will be announced soon for all those who are interested in having in their hands the "Infiernos" of Panteón Rococó. Details of the international tour coming soon.
Source: Panteón Rococó
Related Media