Metadata Joins the Oracle Scaleup Ecosystem Program
Press Release
-
updated: May 17, 2018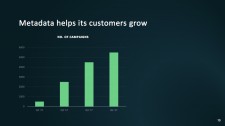 SAN FRANCISCO, May 17, 2018 (Newswire.com) - Metadata Inc. (http://www.metadata.io), a pioneering AI-operated demand generation platform for B2B companies, today announced that it has joined the Oracle Scaleup Ecosystem program. Metadata will work with the Oracle Scaleup Ecosystem and the global resources, cloud technology and expertise offered, as the company moves into its next phase of growth.
"Feedback from the market tells us that Metadata's AI Operator is unique and a game-changer for marketers looking to test their campaigns at scale and generate large volumes of qualified leads. As a growth-stage startup, Metadata seeks business partners that can help us rise above the noise in a crowded MarTech solutions market and get the Metadata platform into the hands of more B2B marketers," said Gil Allouche, founder and CEO of Metadata. "We're excited to leverage the benefits of this relationship with Oracle and participate in the Oracle Scaleup Ecosystem program."
"Metadata has a unique solution that adds value and provides ongoing innovation in the increasingly important MarTech space," said Reggie Bradford, senior vice president, Oracle Startup Ecosystem and Accelerator. "Metadata is the type of company that fits well into our Oracle Scaleup Ecosystem, and we look forward to a long-term relationship with the company." 
Oracle's global startup mission is to provide enriching, collaborative partnerships to enable next-generation growth and drive cloud-based innovation for startups throughout all stages of their journey. To that end, Oracle offers residential and nonresidential startup programs that power cloud-based technology innovation and enable co-creation and co-innovation.
Oracle Scaleup Ecosystem is the nonresidential, virtual-style program designed for mature startups and venture capital and private equity portfolio companies to enable hypergrowth and scale. The program allows Oracle to reach more startups regardless of geographic location. Oracle's Scaleup Ecosystem program offers mentoring, R&D support, marketing/sales enablement, migration assistance, cloud credits and discounts, and access to Oracle's customer and product ecosystems.
Metadata has experienced significant growth over the past year, including 300 percent year-over-year quarterly growth in 2017 and increasing the number of campaigns on the Metadata platform from dozens to thousands per month.
Metadata's Platform and pioneering AI Operator enable clients to create and optimize Account-based marketing (ABM) campaigns at scale while focusing on target decision makers at specific named accounts. Leveraging ideal customer profiles (ICPs) and automating the testing of campaigns, Metadata's technology targets candidate leads who respond favorably to a customized advertising campaign much faster and more accurately than can be achieved manually by an in-house advertising team. Advertisers save time on manual tasks (e.g., a/b testing, manual campaign setup) and are assured that their campaigns are laser-targeted to attract demand and significantly increase numbers of qualified leads.
About Metadata
Metadata is an artificially intelligent execution platform for the CMO. It's patented technology connects to existing marketing technologies and executes hundreds to thousands of high-frequency campaigns in a matter of hours, optimizing them based on pipeline impact. Metadata is replacing the manual, error-prone human-factor in marketing operations, allowing marketers to focus on content and messaging vs. technical tasks. Customers include Nutanix, Amdocs, Intel, Infoblox, SugarCRM and others. For more information about Metadata, visit www.metadata.io.
About Oracle
The Oracle Cloud offers complete SaaS application suites for ERP, HCM and CX, plus best-in-class database Platform as a Service (PaaS) and Infrastructure as a Service (IaaS) from data centers throughout the Americas, Europe and Asia. For more information about Oracle (NYSE:ORCL), please visit us at oracle.com.
Trademarks
Oracle and Java are registered trademarks of Oracle and/or its affiliates. Other names may be trademarks of their respective owners.
Media Inquiries:
Gil Allouche, Metadata​
650.919.3131, gil@metadata.io
Source: Metadata Inc.
---
Categories: Marketing, Artificial Intelligence and Expert Systems
Tags: AI, B2B Marketing, martech, Oracle
---