Metadata and HG Data Announce Joint Partnership
Metadata joins forces with HG Data to fuel intelligent demand gen platform
Press Release
-
Nov 1, 2016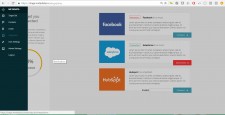 San Francisco, CA, November 1, 2016 (Newswire.com) - ​​​Metadata, a leader in intelligent B2B demand generation announced today that it has partnered with HG Data, the leader in competitive intelligence on installed technologies.
Metadata has developed and patented an intelligent demand automation platform that optimizes marketing spend across advertising channels and reduces customer acquisition costs by generating and targeting new pipelines of qualified prospects. Using machine learning and artificial intelligence, the platform builds active personas based on existing customers by combining first-party data from internal CRM, marketing automation platforms and hundreds of third-party data signals. Lists of new 'look-alike' prospects are generated by pulling matches from a database of hundreds of millions of business contacts built with data from partners such as ZoomInfo, Clearbit, FullContact and many others. The new, qualified, prospects are then matched with targeted advertising campaigns on display and social channels.
HG Data has assembled the world's largest and most granular collection of global B2B tech install intelligence data available. By consuming billions of meticulously sourced documents and analyzing them through a proprietary machine-learning and advanced pattern-matching process, HG Data gives its customers the ability to obtain an unparalleled level of insight, invaluable for achieving greater success with account based marketing and sales initiatives.
"HG Data's massive tech install dataset will allow us to extend our lookalike matching and targeting capabilities with technology data," says Metadata CEO Gil Allouche. "Successful targeted advertising requires us to find and engage the most relevant audiences possible. HG Data's tech install dataset will be an invaluable addition for enhancing our relevance profiles to further boost conversion rates."
"By partnering with Metadata we're further extending their ability to target high value accounts," said Don Wynns, VP OEM and Channel Partnerships for HG Data. "Metadata's patented technology is exciting and has already demonstrated a strong ROI for B2B companies. Giving marketing teams the ability to generate a predictable pipeline of net new, opt-in qualified leads while reducing customer acquisition costs represents the next generation of account based marketing."
For more information about Metadata's intelligent B2B demand generation platform, please visit http://www.metadata.io
About HG Data
HG Data is the global leader in competitive intelligence for installed technologies. The world's largest technology companies, the fastest-growing start-ups, and some of the most innovative OEM partners achieve an unfair advantage by using HG Data in building market analysis, competitive displacement, predictive modeling, marketing campaigns, and client retention initiatives. Every day, HG Data indexes more than two-billion unstructured documents across the open Internet, the archived Web and offline resources to produce a detailed, accurate census of B2B technology installations in use at companies globally. Founded in 2010, the company is based in Santa Barbara, CA. Learn more at http://www.hgdata.com.
About Metadata  
Metadata was founded in 2015 by Gil Allouche and Yan Manevich. Metadata fuels your marketing campaigns with opt-in marketing qualified leads using patent-pending technology that taps into your CRM data to automatically analyze and map your target persona. Metadata then uses look-alike modeling to target relevant prospects to optimize your paid media spend and boost conversion rates by 3-5X. Among our featured customers are Datawatch, AtScale, Concurrent, Cisco, UBM, OOMA and others.
Source: Metadata Software, LLC
---
Categories: Business Technology, Business to Business, Marketing
Tags: Demand Generation, Lead Generation, Marketing, Marketing Automation, Marketing Qualified Leads, MQL
---