Mervi Karsi-howard's New Book 'Israel, Jerusalem, And The Jewish People' Brings Forth Important Knowledge of Biblical Histories to Draw Believers to the Word
Recent release 'Israel, Jerusalem, and the Jewish People' from Covenant Books author Mervi Karsi-Howard is a great read that provides knowledge, wisdom, and biblical history to believers wherein they can understand the unredacted truths of Israel, Jerusalem, and the Jewish people.
Press Release
-
updated: Nov 4, 2020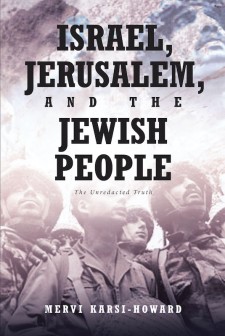 SALTON CITY, Calif., November 4, 2020 (Newswire.com) - Mervi Karsi-Howard, a former Advanced Placement history teacher and historophile, has completed her new book, "Israel, Jerusalem, and the Jewish People": a brilliant account that traces biblical history to let one understand God's truth and Israel's prophecies in clarity.
Mervi writes, "The State of Israel is 8,020 square miles or 0.014 percent of the earth's land surface, and as of May 2019, its population of 9,009,000 was approximately 0.1 percent of the earth's population; however, it seems to be daily in the global crosshairs.
In the Middle East, the Arab countries' territory and population are 650 times and 50 times greater than Israel's respectively. Israel's land area is 0.18 percent that of the Arab countries, and its population is about 2.5 percent that of the Arab countries. Business Insider ranks Israel as the number eight most powerful country based on its alliances, influence, and leadership in the world.
The State of Israel was accepted into the United Nations in 1949, yet the same organization has written 78 percent of its resolutions against Israel in addition to trying to change its history by denying the fact that Jerusalem was established as the capital of Israel by King David.
Israel has never started a war, yet it has had to constantly fight for its existence.
There are still thirty-six nations that do not recognize or have foreign relations with the State of Israel. Every country has had the freedom to choose its capital city, yet most countries refuse to recognize Jerusalem as Israel's capital and have their embassies in Tel Aviv.
Israel did not exist for nearly two thousand years, and yet it was born in a day after its dispersed citizens returned despite or maybe because of persecution and the Holocaust.
We are witnessing the greatest miracle of our time and one of the greatest fulfillments of Bible prophecy, but many are still asking what is meant by the miracle.
God's truth is without compromise, and the prophecies about Israel are the clearest and easiest to understand; however, many do not know them or, for some reason, get them wrong.
Israel is the litmus test for the believer, and this book will guide the seeker to deeper biblical understanding with an abridged but unredacted truth about Israel, Jerusalem, and the Jewish people. The recommended list of additional reading, in concert with the Bible, serves as a guide for those who want to know more."
Published by Covenant Books of Murrells Inlet, South Carolina, Mervi Karsi-Howard's new book is a brilliant encouragement for every single person to seek the truth in the pages of the Bible as it will lead them to a better understanding of the heart of God.
Readers can purchase "Israel, Jerusalem, and the Jewish People" at bookstores everywhere, or online at the Apple iTunes store, Amazon, or Barnes and Noble.
Covenant Books is an international Christian owned and operated publishing house based in Murrells Inlet, South Carolina. Covenant Books specializes in all genres of work which appeal to the Christian market. For additional information or media inquiries, contact Covenant Books at 843-507-8373.
Source: Covenant Books
Share:
---
Categories: Books
Tags: "Israel Jerusalem and the Jewish People", Covenant Books, Mervi Karsi-Howard
---