Meet Bebot, Japan's First AI Chatbot for Hotels, Now Available at Holiday Inn Osaka Namba
Press Release
•
updated: Jun 1, 2017
Bebot acts as a hotel concierge to help personalize guest experiences. Need help with a restaurant reservation? Just message Bebot.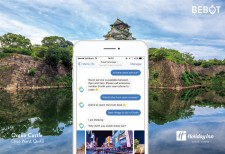 TOKYO, Japan, June 1, 2017 (Newswire.com) - Bespoke Inc. today announced that Holiday Inn is the first major hotel chain in Japan to adopt the latest artificial intelligence (AI) chatbot concierge, Bebot. Now, hotel guests who check in to Holiday Inn Osaka Namba will be serviced by Bebot. The news follows after hospitality giants such as Hilton and the Cosmopolitan Las Vegas embraced the use of AI to improve guest experiences.
Bebot works through the combination of exclusive databases and the AI engine built by Bespoke Inc. It provides guests with personal assistance such as booking restaurants, personalized recommendations for activities, and answering questions about hotel facilities and services. Hotels can not only improve in-stay experiences for guests by learning about them through informal chat log, but also save on personnel by automating responses to frequently asked questions in the chatbot. This way, hotels can simply focus on enabling the amazing hotel experiences.
Bebot is an AI-powered chatbot that acts as a hotel concierge. It is designed to empower guests through instant, real-time assistance such as exclusive recommendations for both popular and little-known sights in the area, answering questions only hotel staff would know about, or even making restaurant bookings. Avoiding the stress of language barrier is just one of the benefits. All communication is done on chat application that guests already have on their smartphones, such as Facebook Messenger — there is no need to download an additional app or switch between multiple browser windows to learn one piece of information.
Bebot is like a never-resting friendly staff of the hotel that establishes relationships with the guests through a casual conversational platform. This opens access to otherwise unavailable or difficult-to-gain information — for example, the casual request of guest feedback, or access to guest information (e.g., what they do outside the hotel). With such a communications route, hotels can increase efficiency, save on personnel, and focus on enhancing guest experiences. The more guests use Bebot, the better it becomes at adapting to the guests' needs. However, whenever Bebot cannot answer, AI changes to human support for a seamless conversation experience.
After launching in early 2017 in historic hotels of Aomori prefecture, Hotel Jogakura and Tsuta Onsen, guests have casually chatted to Bebot about their day or even sent pictures. "We designed Bebot to act as a hotel concierge, but such positive interactions exceeded our expectations," says Akemi Tsunagawa, Bespoke Inc. founder and CEO.
Among others, Bebot helped plan short trips to nearby area, booked restaurants for the guests and requested feedback about the hotel. With ample replies on hotel experiences from hotel guests or how the guests chose their accommodations, the hotels focused on improving the services or learning how to better promote their business to foreign guests. "Our TripAdvisor ranking improved 6 places in 3 weeks — now we are in top 10. With the feedback, we made our restaurant environment more English-friendly and discovered new marketing avenues. We are very pleased with Bebot," says Tomohiro Tanno, owner of the hotels in Aomori.
On a practical level, Bebot is easy to customize for any size hotel in any location through its intuitive administrative interface. The customization process is made simple by using Bespoke Inc.'s databases — minimizing the initiation period for hotels to as little as one hour. The customization portal also enables marketing opportunities for hotels by prioritizing affiliated restaurants, shops or tours in Bebot. Currently, Bebot is available on Facebook Messenger, a platform with over 1 billion active monthly users. However, Bespoke Inc. is preparing to expand to other platforms and languages soon.
About Bespoke Inc.
Tokyo-based Bespoke Inc. is dedicated to enabling amazing local experiences to hotel guests through data and artificial intelligence. Bespoke Inc. has been hand-selected as one of the five companies into the third phase of the IBM BlueHub Incubation program that strives to support Japan's long-term growth and competitiveness. Current products include Bebot, the AI concierge, and LEVART travel community with users from over 100 countries.
About Holiday Inn Osaka Namba
Holiday Inn Osaka Namba is a branch of leading American hotel brand Holiday Inn, and a subsidiary of InterContinental Hotels Group with over 2,600 active hotels worldwide.
###
Bespoke Inc. Overview
Founder: Akemi Tsunagawa
Headquarters: Tokyo, Japan
Founded: October 2015
URL: http://www.be-spoke.io
For media queries, please contact:
Maya Takahashi at press@be-spoke.io
Source: Bespoke Inc.
Related Media
Tags
Additional Links