Marven Vodrey's New Book 'Belany' is a Science Fiction Tale of an Interdimensional Travel of Two Men to an Overwhelmingly Advanced Civilization.
Recent release "Belany" from Covenant Books author Marven Vodrey is a galvanizing journey of two Earthlings to a more technologically innovative and engaging world.
Press Release
-
updated: Dec 7, 2018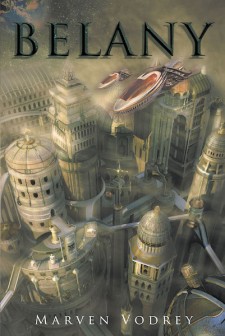 TEMPLE, Texas, December 7, 2018 (Newswire.com) - Marven Vodrey, a psychologist who specializes in anxieties, stress, depression, and panic attacks, has completed his new book, "Belany": an electrifying novel of two men who find themselves in an extradimensional realm at the brink of war.
Vodrey's lively, ambitious tale deftly takes a page from the antics of Star Wars, as protagonists Ben Logan and Tommy Thompson, traveling to a business conference in West Texas, come across a dimensional opening to another world. On the world of Belany, people live up to 800 years or so and do not age past around twenty-five. Belany is older than Earth and technologically more advanced. On Belany, 72 days will pass while only 1 day will pass on Earth. Ben will find how Belany has helped the Earth technologically over the years. Ben's improvements to the Belanian Air Force make a good impression on the planet as he prepares Belany and Earth to go to war with the planet of Karant.
Will the Belanian and Earth fighters be able to defeat the large Karantian fleet and prevent the Karantians from attacking Belany and Earth?
The book is filled with excitement for the men, war, power, action, and romance for the ladies.
Published by Covenant Books of Murrells Inlet, South Carolina, Marven Vodrey's new book will surely entertain readers of all ages and status with its mesmerizing and exhilarating twists and turns.
Witness the lives of two protagonists in their quest to understand the immense magnitude of Belany and deal with its warring state against conquering forces.
Readers can purchase "Belany" at bookstores everywhere, or online at the Apple iTunes store, Amazon, or Barnes and Noble.
Covenant Books is an international Christian owned and operated publishing house based in Murrells Inlet, South Carolina. Covenant Books specializes in all genres of work which appeal to the Christian market. For additional information or media inquiries, contact Covenant Books at 843-507-8373.
Source: Covenant Books
---
Categories: Books
Tags: "Belany", Covenant Books, Marven Vodrey
---