Maria Anania Brinkman's New Book "Mamma Mia, I'm Pregnant" is a Frank Memoir Chronicling the Life of a Beautiful Young Italian Mother Forced to Raise a Baby—and Herself.
"Mamma Mia, I'm Pregnant" from author Maria Anania Brinkman is a true story about forgiveness, as the author grows up in a sheltered, rigid household of six children, and then growing into a life of defiance and disobedience, leading to her teenage pregnancy, marriage, and divorce, finally learning to be at peace with herself as she enters adulthood raising her son, and in many ways, herself.
Press Release
-
updated: Sep 14, 2018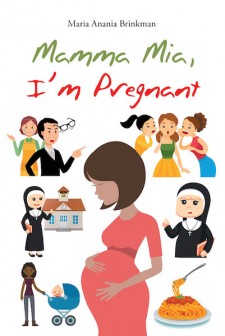 Omaha, NE, September 14, 2018 (Newswire.com) - Maria Anania Brinkman, who was urged by her son into writing her autobiography and "do something with her life," has completed her new book, "Mamma Mia, I'm Pregnant":  an honest bare-all describing a life of lessons learnt the hard way.
Brinkman shares, "Well, my dad was very strict with us girls. I remember he always made us curtsy when we were young, and as we got older, if we attended a social event such as a basketball game, we would have to wear dresses. No slacks. We attended church almost every day, except Saturday. I loved Saturdays. My mom and dad fought all of the time. She would say white, he would say black. They would argue about the stupidest things. But these were big arguments, sometimes with a TV being thrown across the room (we went through so many televisions), and I hated hearing him scream. I used to go up to my room and pray they would get divorced. They always made up. I remember one instance in which we were sitting down for Sunday dinner. After my mother made pasta (spaghetti and meatballs) that took her all morning and part of the afternoon to cook, my dad noticed there was not a butter knife for the butter dish. He then burst into anger, started yelling like a crazy person and threw his spaghetti up onto the ceiling. He then made my mother clean it up. She did."
Published by Covenant Books of Murrells Inlet, South Carolina, Maria Anania Brinkman's new book is an eloquent, probing story that proves the idea that beauty lies at the threshold of pain and trauma.
As Maria grows through every circumstance and decision, both good and bad, readers can trace the way that even a rocky road in hindsight can eventually lead to acceptance and peace of mind with others, God, and oneself.
Readers can purchase "Mamma Mia, I'm Pregnant" at bookstores everywhere, or online at the Apple iTunes store, Amazon, or Barnes and Noble.
Covenant books is an international Christian owned and operated publishing house based in Murrells Inlet, South Carolina. Covenant Books specializes in all genres of work which appeal to the Christian market. For additional information or media inquiries, contact Covenant Books at 843-507-8373.
Source: Covenant Books
---
Categories: Books
Tags: "Mamma Mia, Covenant Books, I'm Pregnant", Maria Anania Brinkman
---