Man Has a Collection of Over 500 Pocket Squares - Addicted?
Josh, 28, from Worthing England spends nearly £200 on pocket squares each month in order to look his best.
Press Release
-
Jul 1, 2016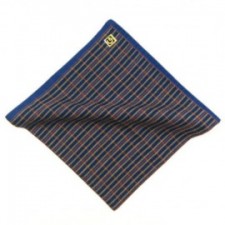 London, July 1, 2016 (Newswire.com) - Most guys in their 20's love to spend a little bit of extra cash on themselves every now and then.  Whether it's on grooming products, clothes, shoes or suits, looking their best during these younger years are crucial to making them feel great and confident.  However, for Josh Clayman, 28, from Worthing, his obsession to looking ahead of the game has resulted in him amassing a collection of over 500 pocket squares.
The first thing you may think is are there actually 500 different types of men's pocket square out there?  After all, they're not exactly littered everywhere in men's fashion shops on the high street.  However, with the rise of brands like Fox and Luther Pocket Squares and those alike, it appears as though more and more men are sprucing up their favorite jackets with a square's twist of style.
Josh's wife to be Kristine said 'I love it when we go on night out and he dresses smart, but having two drawers full of pocket squares, all of which are categorized into colours and designs might just be taking it too far'.  Whilst this Head of P.E at a successful South East school  and gentlemen alike still cling to the popularity of the pocket square, brands such as Fox and Luther will continue to shine and with any old jacket being able to be upgraded with the simple introduction of a square, how many more men around Britain are sure to jump on the bandwagon in the next few years?
Co-founder of Fox and Luther, Alexander Dalley says 'I'm delighted to hear of the rise in popularity of picket squares and we will continue to invest in new designs and fabrics. Whilst 500 might be a little bit on the excessive side, if a simple bit of material can change his look and transform his confidence, then why should anyone judge?'
Source: http://menspocketsquares.co.uk/
Share:
---
Categories: Fashion and Apparel, Men's Issues, Lifestyles
Tags: men's fashion, men's style, pocket squares.
---