Magic Photo Album: The World's First Video Album
Store & Share your memories as photos, video or audio in the Magic Photo Album, Notebook or Postcard
Press Release
-
updated: Dec 4, 2018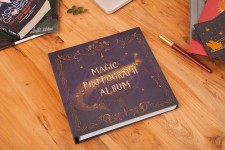 CHICAGO, December 4, 2018 (Newswire.com) - Inspired by the magic of Harry Potter, the team behind the Magic Album set out to turn the photographs in a photo album into a wonderful experience similar to the moving photographs and paintings adorning Hogwarts.
The Magic Album's goal is to enhance the way memories and stored, viewed and experienced. And they've done this by using QR codes to store videos, digital photos, and audio recordings so they can be scanned and replayed by any phone. The most novel thing about the Magic Album is that there are no downloads or apps necessary as everything done through a webclient and saved to the cloud.
The process to embed files is very easy too. To save a file all one has to do is scan the QR Code with their smartphone camera, choose the video/image/recording they wish to save to it, and it will be saved forever so that whoever scans the QR code with their camera again will be able to view the photo, video or recordings that has been embedded.
Interested consumers will be given an option between Magic Albums, Postcards, Greeting Cards, or even notebooks with QR codes spread among their pages to best create a memorable experience and bring their memories to life, share their vacation photos in a postcard, or even save notes and recordings in a notebook for later.
Anyone finding this interesting should head over to Magic Album's Indiegogo page and order theirs for massive savings: https://www.indiegogo.com/projects/magic-photo-album-the-world-s-first-video-album#
Source: Magic Photo Album
Share:
---
Categories: Multi-Media
Tags: audio, Chrismas gift, gift, magic album, memories, photo album, photos, postcard, video
---