Local Kids Propose That Healing Power Comes From Lemonade
Our youngest residents understand that lemonade can cure cancer. On Saturday, June 24 they will host Lemon Drops and Lemonade To End Cancer, where proceeds from the sale of candy and all revenues from the sale of lemonade will be donated to Alex's Lemonade Stand Foundation.
Press Release
-
updated: Jun 16, 2017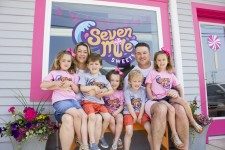 Avalon, New Jersey, June 16, 2017 (Newswire.com) - Seven Mile Sweets was inspired by the five (5) Jones children and their parents' dream of recreating some treasured childhood memories for their kids. Whether one visited the Shore for a day, weekend or the whole summer, there was always a trip to the candy shop to fill a pouch with penny candy, get a novelty or purchase fudge. Another dream that the Jones' share is a passion for making a difference in their community. This year they are launching into summer with a special fundraiser proposed by the kids.
The Jones children attend school at Penn Wynne Elementary, which is where Alex Scott, founder of Alex's Lemonade Stand Foundation attended school. The Jones children are inspired by her memory and know that they can make a difference using 'their own candy store.' On Saturday, June 24 the Jones children and staff of Seven Mile Sweets will host a Lemon Drops fundraiser for Alex's Lemonade Stand Foundation. Proceeds from the sale of candy and all revenue from the sale of lemonade will be donated to Alex's Lemonade Stand Foundation. "We are thrilled that the kids understand their power to help other children," says Maggie Jones. "We also believe in the healing power of lemonade."
Also attending the event at Seven Mile Sweets on Saturday, June 24 is Shannon Staino. Shannon's son Brett is an Alex's HERO. Brett was diagnosed with Stage 3 Wilms Tumor cancer in 2008 when he was only 15 months old. He completed 25 weeks of treatments including surgeries, chemotherapy, radiation, and transfusions. With great medical care from CHOP and the support of wonderful family and friends, Brett and his parents have an encouraging future. "We continue to work to raise funds for further research in the hope of breakthroughs in medicine and early detection which will save our children," says Shannon. "It is wonderful that kids like Alex and Brett can inspire other generations to become warriors in finding a cure to pediatric cancers."
Come out to Seven Mile Sweets on Saturday, June 24 between 11 a.m. – 4 p.m. to meet Shannon Staino, the Jones children and to participate in Lemon Drops For Alex's Lemonade Stand. If unable to be in Avalon but want to support the power of lemonade, please donate at https://www.alexslemonade.org/mypage/1324697.
# # #
Seven Mile Sweets is a fresh take on the old-fashioned penny candy store. The Jones family and their employees aim to deliver the sweetest treats at the Jersey Shore while creating lasting childhood memories for our younger generations. Enter the pink door to find the sweetest place at the shore!  For more information, visit www.sevenmilesweets.com and follow on social media at @7milesweets.
Source: Seven Miles Sweets
Share:
---
Categories: Children's Issues, Local News, Metro News, Family
Tags: Alex's Lemonade Stand, Avalon, Cancer, fundraising, kids helping kids, lemonade, New Jersey, pediatric cancer, Seven Mile Island
---