Highest Honor at Investor Capital Expo Goes to OtoNexus Which May Lead to Fewer Surgeries and Serious Inner Ear Infections
Press Release
•
updated: Oct 18, 2019
The over 200 angel investors participating in the Keiretsu Forum Mid-Atlantic's Investor Capital Expo selected OctoNexus as the winner of the Stephen M. Goodman Most Valued Company Award for 2019. This honor has advantages prior winners in funding and development.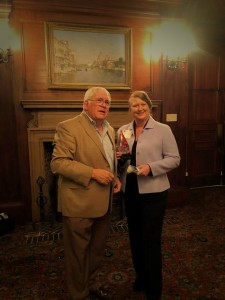 PHILADELPHIA, October 18, 2019 (Newswire.com) - ​​Keiretsu Forum Mid-Atlantic hosted the 7th Annual Investor Capital Expo yesterday. Over 200 accredited angel investors heard from eleven carefully screened early-stage entrepreneurs. In addition to seeking funding, Founders competed for the distinguished honor of being named the winner of the Stephen M. Goodman Most Valued Company award.
Stephen M. Goodman began representing emerging companies in 1969. Mr. Goodman believed in encouraging entrepreneurs and the importance of developing innovation. He was nicknamed the Godfather of Philadelphia Startups. It is in the spirit of Mr. Goodman Keiretsu Forum Mid-Atlantic named the Most Valued Company recognition for Mr. Goodman.
This year this highest honor was bestowed upon OtoNexus. OtoNexus is a Seattle-based firm working to bring the process of diagnosing ear infections into the 21st century. Ear infections are the #1 reason for both surgery and antibiotic use in children. Currently, there is a 50% error rate in the diagnosis of middle ear infections in children, leading to an estimated $10-15 billion in annual medical costs in the United States alone. OtoNexus' device shortens treatment time, reduces misdiagnosis, and helps clinicians avoid unnecessary antibiotic use through the innovative use of ultrasound technology.
Runners up for this award included 2nd place gel-e and 3rd place UbiQD. gel-e is developing a line of advanced hemostatic and wound treatment products that address unmet needs from the operating room to the backyard. While UbiQD a nanotechnology company based in Los Alamos, New Mexico manufactures high-performance, cadmium-free quantum dots, and composite materials. UbiQD was recently named the winner in the Hyper-Connected Communities category of the 2019 South by Southwest ('SXSW') competition.
The 2018 Goodman Award winner, Carmell Therapeutics has leveraged the distinction to advance into IND trials. According to Randy Hubbell, CEO, "the Goodman Award provided validation that we had the right team and a solid plan in place to succeed. We have been able to use this credibility to shorthand conversations with other investment groups and high-worth individuals that also believe in our plan." Having strong partnerships in place with Keiretsu Forum members and Keiretsu Capital has enabled Carmell to build a funding and regulatory platform to bridge to Phase III clinical trials.
"Since 2011, Keiretsu Forum Mid-Atlantic has provided resources, mentoring, and funding to entrepreneurs while delivering investor members with the highest quality deal flow as well as exclusive educational and networking opportunities," says Howard Lubert, Co-Founder of Keiretsu Forum Mid-Atlantic. In 2018 the Mid-Atlantic Region, received more than 315 applications, screened 130, and invited 40 to present at the monthly Forum meetings. A testament to this well-oiled machine is that members invested over $7 Million in 32 of those deals and added 34 follow-on investments in portfolio companies in 2018.
For more information, visit www.KeiretsuForum-MidAtlantic.com. To book Mr. Lubert for speaking engagements, please contact Cindi Sutera at cindis@amscommunications.net
# # #
Media Contact:
Cindi Sutera
cindis@amscommunications.net
610-613-2773
Source: Keiretsu Forum Mid-Atlantic
Related Media