Live From the Fit Expo Floor This Weekend - GRIPBELL Demos Hottest New Fitness Product
Anaheim, California, The Fit Expo, August 26-27, Booth #324
Press Release
-
updated: Aug 26, 2017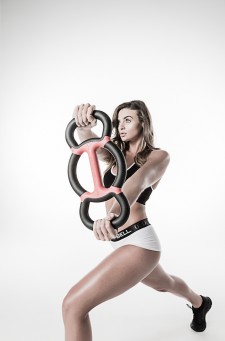 ANAHEIM, Calif., August 26, 2017 (Newswire.com) - GRIPBELL's new line of handheld weight-based fitness products that offer an all-in-one full body workout for just about anyone, at any age or fitness level, is debuting at IDEA World this week.
The GRIPBELL product was developed with every mode of fitness level in mind. With its simple transportable design, a variety of weights and the potential to be incorporated into multiple types of training, GRIPBELL provides unlimited potential to safely enhance anyone's fitness program.
GRIPBELLs in action: https://www.youtube.com/watch?v=O-vGX5pl5V0
KEY FEATURES
GRIPBELL offers an effective, simple and transportable design with color-coded weight levels that vary between 3 and 12 pounds.
GRIPBELL's revolutionary design simplifies and replaces many other types of handheld gym equipment, including dumbbells, medicine balls, and kettlebells.
GRIPBELL simplifies or can intensify cross-training, physical therapy, weightlifting, interval training sessions, and to stretch every muscle in your body.
GRIPBELL can also be used to enhance otherwise unweighted workout routines such as yoga, Pilates, and water aerobics.
GRIPBELL has developed full body and muscle specific training videos from experienced fitness instructors to get people started that ships with the product.
GRIPBELL is also aiding people who are rehabilitating from an injury or surgery and be used as an isometric tool to build strength and gain more flexibility.
GRIPBELL has no hard edges, making it much safer if you drop one or it slips from your hand.
Enhances any fitness level or activity at any age.
The GRIPBELL can be used at home, at the office, in the gym or on the road and lays flat in your luggage for easy portability.
The company recently completed a very successful Kickstarter campaign – recognized in the top one percent of all Kickstarter campaigns. The drive exceeded the initial funding goal by 1,704 percent within four weeks, and raised a total of $354,000.
ABOUT GRIPBELL PRODUCTS
Based in Reno, Nevada, BarXbell Inc. develops, sells and distributes the revolutionary GRIPBELL products. In response to the increased demand for innovative, full-body, space-saving fitness equipment for all ages and fitness levels, the patent-pending GRIPBELL is a powerful all-in-one workout tool that can be used at home, at the office, in commercial gyms, or even while traveling. For more information, go to https://www.gripbell.com.
# # #
The Fit Expo
AUGUST 26-27, 2017
SATURDAY: 10:00 AM - 6:00 PM • SUNDAY: 10:00 AM - 5:00 PM
ANAHEIM CONVENTION CENTER
MEDIA CONTACT: Amy Bonetti, Big Mouth PR, 415-407-9008​
Source: GRIPBELL
Share:
---
Categories: Active and Healthy Living, Recreation and Sports
Tags: all-in-one handheld fitness products, cross-training, fitness, fitness products, health, health and fitness, home gym, The Fit Expo, weight-based, workout
---