Gripbell Kickstarter Campaign Raises More Than 1700% of Initial Goal; Reaches InDemand on Indiegogo
After accomplishing the rare feat of raising more than $340k in just 30 days on Kickstarter, Gripbell is continuing its campaign as part of the InDemand platform on Indiegogo.
Press Release
-
Mar 15, 2016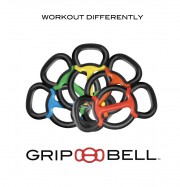 Pleasanton, California, March 15, 2016 (Newswire.com) - Gripbell soared past each goal it set through its Kickstarter campaign raising more in its first few days than most projects raise in total, putting the campaign in the top 1% of all Kickstarter campaigns, the 6 Digits Club. Now that the Kickstarter campaign has ended raising more than $340k from 2,730 backers in just 30 days, the campaign is now running as an InDemand item on Indiegogo.
Gripbell is designed to let users do more in their fitness routine with less equipment. From pros to amateurs of all ages, anyone at any stage of fitness can use Gripbell.  There's also no limit to what the versatile Gripbell can be utilized for including stretching, physical therapy, strength exercises, yoga, dance, aquatics, oar-rowing routines, and more. Its design allows the user to easily exercise with the Gripbell indoors or outdoors, at home and even take it while traveling.
Gripbell's design is dynamic stimulating the burn factor to be multiplied several times during the workout. Those who have tried the prototype were amazed at how intense the workout was on their bodies. When well into their workout they said that 3lbs Gripbell began to feel like 15lbs, and 5lbs Gripbell began to feel like 25lbs.
"From the start, I was impressed with the workout Gripbell provided. The number of different exercises you can do coupled with how intense the workout is, Gripbell is definitely impressive," says Nyle DiMarco, America Next Top Model Cycle 22 winner and now slated to be on the next season of Dancing with the Stars.
DiMarco is featured in the Gripbell ads and is now available for interviews as part of the Gripbell team. DiMarco and Wood, as well as his entire team, are part of the Deaf community. The two met previously on the movie "In the Can", an ASL Film Wood directed. DiMarco has been a fan of Gripbell since the beginning.
Gripbell is available for advanced purchase at a reduced price. The campaign has structured a variety of pledge levels aimed at both individuals and for gyms and fitness businesses of all sizes. The weights are available in 3lb, 5lb, 8lb, 10lb and 12lb and can be purchased individually or in sets. These reduced prices are only available during the campaign and quantities are limited so supporters are encouraged to lock in their pledges early.
Gripbell has also received positive reviews by those in the fitness industry and has been featured in Towleroad, Next Magazine, Club Industry, and BWW Fitness World. To learn more about this must-have product and to lock in an advanced purchase through a campaign pledge, visit Gripbell's Indiegogo campaign.
About Barxbell, LLC
Barxbell, LLC, established in 2015, innovates and markets Gripbell to replace the existing dumbbell, barbell and kettlebell workout equipment. Gripbell is an innovative 3-in-1 workout equipment that delivers far more workouts and functions than meets the eye. To learn more, visit Gripbell.com.
Share:
---
Categories: Exercise and Physical Fitness, Lifestyles, Sports
Tags: fitness, gripbell, workout, workout equipment, workouts
---