LITTLE DOME is Quickly Building a Fashionable Brand in Global Oral Care Industry and a New Retail Model
Press Release
•
updated: Jan 9, 2018
As the world's first offline franchised store of creative oral care products, LITTLE DOME 4℃ Toothpaste Store is scheduled to pull the curtain in Changchun City, Jilin Province, in January 2018. The offline store is customized in one of the core shopping malls of Changchun City - Eurasian New Life by LITTLE DOME, a representative brand of creative oral care products in China.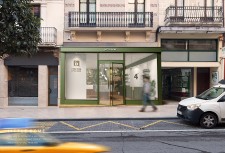 GUANGZHOU, China, January 9, 2018 (Newswire.com) - As the world's first offline franchised store of creative oral care products, LITTLE DOME 4℃ Toothpaste Store was under preparation for the past half year but drew extensive attention in oral care field. With the theme of manufacturing fashionable toothpaste, the offline store will be structured with diversified experience scenes by relying on intelligent technologies and integrating online and offline resources to provide premium experience services of oral care products effectively.
Build a fast fashion brand in oral care
As the world's first offline franchised store of oral care products, LITTLE DOME 4℃ Toothpaste Store adopts a new retail mode - a combination of experience and purchase. LITTLE DOME takes the offline experience as the basis to promote its fans to buy and bring into play its outstanding R&D and creative ability; this way will also help to turn the world's hottest fashion trends and the latest theories and technologies of oral care products into actual products and give them to consumers finally.
The store will provide users with the latest and coolest fashionable oral care products. As a fast fashion brand of oral care, LITTLE DOME keeps improving to catch up with new trends. For one thing, it regularly launches brand-new recipes and creative package products; for another, it regularly launches customized products inspired from mainstreaming movies, customized editions of reputed designers, cross-industry brand co-name edition and limited edition. Different fashion scenes, strengthened communications with consumers and combined offline and online marketing, all help to form a closed experience circle for consumers and stimulate consumption by way of offline experience.
Create different fashion scenes to set up a toothpaste benchmark
The new retail experience of the store not only includes fashion products sold online and exhibited offline, but also involves offline experience, such as film, art exhibition, theme lecture and academic salon. Consumers may enjoy a unique lifestyle experience.
LITTLE DOME plans to hold over 200 interactive community activities every year. Brand interaction, music, film and painting theme activities in forms like doodle and popular classrooms will be organized to interpret the cross-industry fashion culture; besides, it regularly introduces brand or art exhibition and music performance factors. Weekly fashion classrooms would expand the trend from fashion oral care to varied levels of the lifestyle. No matter what users would learn here, skills of luxury products and artistic flower arrangement, or latest trends of fashion insiders, they will not forget to stroll around here every week afterwards thanks to their experience.
This is a brand-new diversified business form for fashion lifestyle. With it, LITTLE DOME could extend the spirit of manufacturing fashionable toothpaste to all levels of lifestyle and fashion culture. Individual young people who have different preferences could be gathered together through themed fashion culture, advanced art and varied subcultures. When they gather in the store to participate in varied experience activities, they could have a deeper understanding about oral care and fashion culture.
With the project layout of new retail, LITTLE DOME could better supplement and complete the business model "fast fashion + new retail". Mr. Yang Lei, founder of LITTLE DOME, commented that business form keeps evolution, so no need to say old or new; however, as offline entity business returns to warm, the difference between online and offline business will be weakened in the future. No matter how things change, LITTLE DOME will never neglect the core – consumer demands. Relying on continuously upgrading theory and technology, LITTLE DOME keeps improving to create consumption-based fashionable content, scene and experience and focus on core users for penetration.
About LITTLE DOME: LITTLE DOME is a representative top-end oral care brand in China. Its sales through e-commerce channel is ranked one of that of top 5 Chinese toothpaste brands. Its top-end oral care products are sold at prices and volumes that are higher than that of international daily chemical products tycoons, such as Proctor-Gamble and Unilever; they are very popular in China. The brand alleged that it would open more franchised stores and organize worldwide itinerant exhibitions in 2018.
Source: LITTLE DOME
Related Media
Tags