Life-lighting Multifunction LED Lights for Powering a Variety of Work and Recreational Applications
Press Release
-
updated: Nov 26, 2019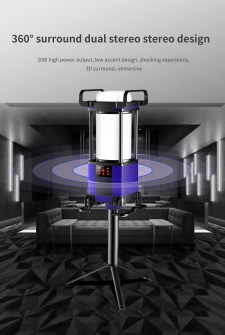 DONGGUAN, China, November 26, 2019 (Newswire.com) - Life-lighting has released its W9 Multifunction working light model, which is among the most versatile working lights available, as it offers a variety of services in a single portable device. Some of the services that can be obtained using a multifunction working light include work light, warning light, mosquito repellent switch, smartphone charging, dual stereo with Bluetooth connectivity, and dimming free switching for adjusting the modes of light under different situations. It's been designed for both industrial and family usage and provides a comprehensive range of indoor and outdoor applications, which are instrumental in its widespread value for casual indoor use and under various outdoor situations, such as traveling, camping, search operation, etc. The multifunction LED light is portable and can be recharged, which makes it a priority companion on long outdoor travels and stays.
Multi-shift-dimming free switching enables different adjustable modes, depending upon various scenarios in which they might be required. The different modes of light relate to the intensity and output of the LEDs, which can be adjusted to strong, medium, and low-light outputs. Similarity, the working light is also capable of producing an emergency mode red and blue warning light, which can be used by people in case they want to deliver a warning signal under different circumstances. The intensity and the reach of the warning signal output are significantly high as well, making it an effective option for users in different situations. The light also provides mosquito repellent applications, which is useful especially for those who want to use it for camping purposes.
The multifunction LED light has a 62,400 mAH Lithium battery, which is capable of operating for a longer period and provides around six hours of lightning and 20 times of smartphone charging services. The battery can also be quickly recharged through different charging options, such as solar, adopter, car, and battery. There are multiple output ports on the device that can be used for charging smartphones and other devices, such as respirators, iPads, car refrigerators, car electric inflators, etc.
One of the distinguishing features is a Bluetooth connected stereo, which enables users to play media files on their smartphones and amuse themselves with high-power output sound. The stereo has a 360-degree surround design, which ensures that the sound output disperses in all directions, providing an immersive experience. The volume of the speaker can also be easily adjusted using the options on the device as well as the smartphone. The different features of the multifunction, portable Bluetooth speakers work light can be used in tandem in order to create an amusing outdoor recreation environment.
There are various other features such as the light that has been provided with a scientific design handle, which makes it convenient for users to carry it. The portable white light is also waterproof, which is another reason why it is the most preferred choice for outdoor applications. 
Source: Life-lighting
Share:
---
Categories: Vacations and Travel
Tags: camping light, multi-function LED light, working light
---
Related Files
Additional Links