Life-lighting Launches Multi-Function Bluetooth Lantern Speaker for Comprehensive Outdoor Travel and Camping Solutions
Press Release
-
updated: Sep 23, 2019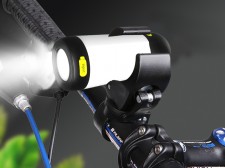 DONGGUAN, China, September 23, 2019 (Newswire.com) - Life-lighting specializes in the design and production of portable power stations, lighting solutions, Bluetooth speakers, etc., in order to provide a convenient experience to people while traveling or camping or for indoor use. The company has launched various multi-functional Bluetooth lantern speakers which provide a comprehensive solution for lighting and music play, as well as a power bank for charging or operating electronic devices. With these lantern speakers, people can acquire three different services in a single portable device, which significantly increases convenience and rationalizes budgets since there is no need to purchase separate devices. These devices are rechargeable with large battery capacity, which means that multi-purpose functionality and long-term usage are guaranteed to provide greater convenience. 
The D8 Bluetooth Lantern speaker has two different types of lighting solutions: 2W LED flashlight and 3W LED table light. These lights can be used for multiple purposes indoors or outdoors. When lights have to be used outdoors, the LED flashlight is great for people who want to go camping or hiking at night while the LED table light allows people to illuminate a specific area. Similarly, the 5W Bluetooth speaker allows people to enjoy wireless music play without having to be restricted to an area. People can operate the speaker using their smartphones and adjust the volume easily. The portable power station is rechargeable and can be a source of power for electronic devices such as mobile phones, especially when people are traveling or require a camping power source.
What are the specifications of the Life-lighting Bluetooth lantern speaker?
It has a 2W LED flashlight which can operate in three different modes: strobe, SOS, and strong light. 
It has a 3W lantern light, which can be used as a camping power source, for studying, for illuminating parties, etc.
Bluetooth 4.2 technology enables wireless music streaming through 5W volume adjustable device speakers. 
5200-mAh battery capacity makes it the best portable power station as it can be used for recharging and operating electronic devices through its USB output. The output of the device is 5V 2A.
The device is IP65 certified.
CE, RoHS, and FCC certificates. 
What are the significant advantages of the Life-lighting lantern speaker?
The different lighting modes increase the applications of the device and make it useful for different circumstances. SOS mode is particularly important for people who have lost their path in unfamiliar places.
Bluetooth technology increases convenience, as people do not have to be restricted to the area or use headphones.
It has a large battery capacity, which enables 72 hours of music play, making it appropriate for casual parties and camping.  
It is the best portable power station as it provides a useful camping power source for recharging and operating electronic devices. 
The device is waterproof and safe for operating at home as well due to various International certifications.
Source: Life-lighting
Share:
---
Categories: Consumer Electronics
Tags: best portable power station, Bluetooth lantern speaker, camping power source
---
Related Files
Additional Links