Life-Lighting Launches P35 Portable Power Generator for Smart Outdoor Power Solutions
Press Release
-
updated: Sep 11, 2019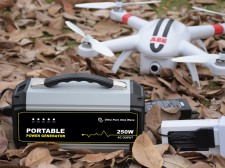 DONGGUAN, China, September 11, 2019 (Newswire.com) - Life-lighting is the brand name for Dongguan Lemark Technology Ltd, located in Dongguan, which specializes in the R&D, production, and sales of Bluetooth speakers and portable power generators. The company has launched a P35 portable power generator with significant optimization in previous designs and features. A portable power generator is a type of outdoor generator that enables people to use electronic devices without any disruption. Traveling to or working in areas with either no electricity coverage or frequent power outages can be frustrating. In such cases, important electronic devices, i.e. smartphones, computers, machinery, etc., might be without an electricity source for a longer period. This can adversely affect the outdoor experience of people since power outages have the capacity to stall their amusement. Therefore, in most cases, people tend to carry outdoor generators to have a power supply to operate their electronic devices. However, most of these outdoor generators are not fully optimized for operation, due to which, they provide only limited relief. Some of the common drawbacks found in common outdoor generators include low battery life, no solar rechargeable capacity, inefficient control mechanism, weight, low lifespan, etc.
Therefore, the P35 portable power generator has an optimized design, eliminating drawbacks in common outdoor generators for enhancing the user experience. P35 is lightweight with robust operational capacity, which makes it highly suitable for heavy-duty outdoor usage. It is portable in nature, which enables users to carry it along on trips to areas experiencing frequent power outages. It is also solar rechargeable, which provides people an opportunity to recharge the batteries during the day and use their devices without disruption for longer periods.
Significant characteristics of P35 portable power generator
1.    High-End Lithium battery: The portable power generator comes with a high-end Lithium battery, which has a high storage capacity in the range of 4500mAh. It enables people to charge their electronic devices in a convenient manner. Lithium batteries are also lighter compared to lead batteries, making them convenient to carry over long distances. 
2.    Multifunctional output: The output of a portable power generator is multifunctional, which means that it can be used for operating a variety of electronic devices, such as mobile phones, computers, digital cameras, MP4 players, game consoles, etc. It has multiple connectors with appropriate compatibility for using different devices at the same time.
3.    Solar rechargeable: The batteries are solar rechargeable which means it is viable to use solar panels for the purpose. This allows long-term use of outdoor generators and enhances the quality of the user experience. 
4.    S.E.C Smart control: The outer power generator has an intelligent display, which gives an account of battery health in real-time. Similarly, operation statistics and usage of the battery can be analyzed for optimizing its use. 
5.    Protection mechanism: There are various protection mechanisms for regulating the output of the generator in order to ensure the protection of connected devices.
Source: Life-lighting
Share:
---
Categories: Consumer Electronics
Tags: outdoor generators, outdoor power source, portable power generator
---