'Let's K-Food' at KCON 2019 LA
LA aT, K-FOOD Consumer Promotional Event at KCON 2019 LA
Press Release
-
updated: Aug 13, 2019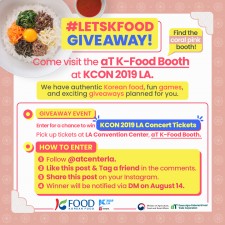 LOS ANGELES, August 13, 2019 (Newswire.com) - For three days, from this coming August 16th to the 18th, the Ministry of Agriculture, Food and Rural Affairs (Minister Lee Gye Ho) and Korea Agro-Fisheries and Food Trade Corporation (aT, CEO Lee Byung Ho) will be exhibiting at KCON 2019 LA, a Hallyu Concert at the LA Convention Center. Following the theme, "LET'S K-FOOD," a variety of food representing Korea, such as kimchi, bibimbap, ginseng chicken stew, along with the Korean agri-food that's gaining popularity in America, such as citron, omija drinks, noodles and snacks, will be showcased.
This K-FOOD consumer promotional event (LET'S K-FOOD) has been made possible through the growing, recent trades in the states, in the hope of revitalizing the exports of Korean agro-fishery foods. On the 9th and 10th of July, a B2B export and trade meeting (2019 K-FOOD FAIR LA/ Intercontinental Hotel) was held following the B2C consumer promotional event for the U.S. consumers, targeting millennials who are intrigued and fascinated by the Korean Wave (food culture, music, beauty). aT stated that they hope to raise awareness of K-FOOD and captivate the taste buds of future consumers.
For this reason, aT, since last month, has commissioned the popular K-POP boy band Astro as promotional models and used their photoshoots to go along with the theme of this year's booths. They also plan to use 'Green, Red & Hot, Fancy, Miracle' as the four themes to capture the visitors' eyes at first sight.
Furthermore, Ricky Hwang – a famous chef who cooked at the Oscars after-party dinner at Hotel Nomad LA  – will be preparing handmade bulgogi bibimbap, kimchi pancake, and citron cake to showcase Korean food products that may be enjoyed in various healthy ways. Because social network platforms are a very important part of current millennials' lives, famous food influencers including 'LAFOODIE' and 'HANGRYDIARY' will be hosting an SNS event where consumers can participate in games and giveaways to fully immerse themselves in the culture of K-FOOD.
Mr. Manwoo Han, who is president of the Los Angeles branch of aT, reveals, "Korean products definitely have thus far been introduced to the American market through diverse channels, however, I believe that this Hallyu Concert [KCON 2019 LA] is a great tool that will bring awareness to young, unfamiliar consumers. We will actively navigate the existing Korean Wave, which has been gaining popularity in the U.S. market, in the hopes of making Korean food become the representative food of ethnic food in the U.S. We also hope to accelerate marketing campaigns in the states so that the overseas exports of Korean agricultural and fisheries foods, which recorded 9.3 billion dollars last year, will surpass the 10 billion dollars mark."
(Reference) LA KCON and K-Food Consumer Promotion Event Summary
2019 LA KCON and K-Food Consumer Promotional Event Overview
1. Promotional Objective
KCON is a global cultural event reflected upon the American culture for the millennials in America, to create the awareness of K-Food by promoting Korean agri-food, thus, securing future consumer groups.
2. Promotion Strategy
Event Name: KCON 2019 LA and K-FOOD Consumer Promotional Event
Main Theme: LET'S K-FOOD
Date and Time: Aug. 16, 2019 (Friday) Aug.18 (Sunday) - 10:00 a.m.-6:00 p.m.
Location: Los Angeles Convention Center (EXPO Venue)
(Address) 1201 S Figueroa St, Los Angeles, CA 90015
Main Events
Korean Food Sampling made by famous Korean chef – Promoting Korean agri-food through food sampling
- (Day 1) Kimchi Pancake + Citron Drinks
- (Day 2) Bulgogi Bibimbap + Omija Drink
- (Day 3) Citron Pound Cake + Sweet Potato Jelly
- Before the event, encourage influencers to participate in the SNS event
- Influencers must attend the event for all three days to showcase promotional videos and/or to promote K-Food
- Use 'Green, Red & Hot, Fancy, Miracle' as the themes to promote Korean agri-foods
- Introduction and promotion of Korean agri-food through a variety of games, such as Wheel of Fortune
- Utilize the photoshoots of the promotional model K-POP boy band Astro for a K-FOOD photo zone
Source: Korea Agro-Fisheries and Food Trade Corporation
Share:
---
Categories: Local News
Tags: FOOD EVENT, KCON LA, KFOOD, KOREAN FOOD, KOREAN FOOD EVENT, LOS ANGELES FOOD EVENT
---