Korean Food Event at Utah Football Game
The University of Utah and Korea Agro-Fisheries & Food Trade Corporation (aT) had a Korean food collaboration event.
Press Release
-
updated: Oct 25, 2018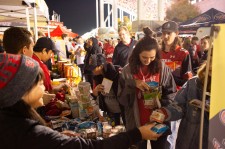 SALT LAKE CITY, October 25, 2018 (Newswire.com) - Korea Agro-Fisheries & Food Trade Corporation (aT) and the University of Utah partnered to bridge the two communities and cultures during The University of Utah vs. USC football game this past weekend.
Just as the game was a success for Utah, the K-Food Touchdown event showed positive outcomes within the attendees of the game. The University Union was able to connect the four Korean companies - Lotte, Jayone, Damtuh and Woobo - to the Guardsman Tailgate Lot and the Rice-Eccles Stadium Food Concession to promote various Korean snacks, food products and drinks.
During the tailgate, there were games to attract the attendees that allowed them to win prizes. There were chefs at the booth doing a food demonstration of a traditional Korean dish - Japchae. People were able to sample the Korean glass noodles and the reaction was unbelievably positive, as for many, it was something they were trying for the first time. People at the tailgate showed great interest and were eager to learn about more of the Korean products.
Optimistic results were actually assumed prior to the game day. The university's food-related buyers, which included Executive Chef of Chartwells Peter Hodgson and Senior Associate Director of Operations and Director of Development of University Union Branden Dalley, to name a few, held a business meeting with the four Korean companies on Friday afternoon. Both parties were able to discuss the in-school sales of Korean food considering the diversity and internationality of Utah students. In addition, discussions were held for the development of a restaurant menu on the premises using Korean products and various sauces, giving the buyers ideas for vegetarians as well. This collaboration may provide a wider range of food selections to the students at the university in the near future.
Event Title: K-FOOD TOUCHDOWN
Slogan: WIN THE GAME WIN YOUR TASTE
Event Time and Location:
            Oct. 20, 2018
            3–6 p.m. Guardsman Tailgate Lot
            6–9:30 p.m. Rice-Eccles Stadium Food Concession
"All foods and beverages provided great options for the guests and opportunities to know Korean foods in depth. Cheering up the game by eating Korean food also gave a lot of fun. The University of Utah community was engaging; we have to extend a sincere thanks to aT center and the whole K-Food Touchdown team for their hard work before, during and after the event. This event has made many students and visitors more interested in Korean food and culture," said Branden Dalley, senior associate director of operations and director of development of University Union. He also expressed expectation for Korean culture and food experience.   "We hope to be able to have enjoyable event soon to introduce Korean food and culture to more students and community."
About aT
Korea Agro-Fisheries & Food Trade Corporation (aT) is a government-invested organization responsible for agriculture and fishery marketing and international trade support since 1967. aT performs export agent functions for a large number of small and medium-sized companies related to the industry. aT's role is to also introduce and promote Korean food and its culture to the world. aT currently operates overseas as well to support efficient market development. aT offices are located in Los Angeles, New York, Tokyo, Osaka, Hong Kong, Shanghai, Tsing-tao, Beijing, Paris and Jakarta.
Source: Korea Agro-Fisheries & Food Trade Corporation (aT)
Share:
---
Categories: Food and Beverage Services
Tags: Food Concession, food event, K-Food Touchdown Event, Korea Agro-Fisheries & Food Trade Corporation, Korean food, Korean food event
---