Learning Experiences by Design (LXbD) Partners With Co-Authors Dr. Elia Gourgouris and Konstantinos Apostolopoulos
Press Release
•
updated: Oct 6, 2020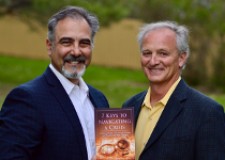 LAS VEGAS, October 6, 2020 (Newswire.com) - ​LXbD welcomes positive psychology experts Dr. Elia Gourgouris and Konstantinos Apostolopoulos (Coach Kon) to its network of thought leaders. Together, Dr. Elia and Coach Kon have partnered to provide a practical guide to emotionally dealing with pandemics and other disasters in their two-part learning experience 7 Keys to Navigating a Crisis, which is based on their book by the same title.
As Dr. Elia and Coach Kon explain, "Organizational and HR leaders across the world are noting their top priority is ensuring the mental and physical well-being of their employees and acknowledge that frontline leaders are the most important link to those employees. In this partnership with LXbD, we can provide a program that provides these leaders with the knowledge and proven practices they can apply immediately to embrace the necessary changes resulting from a dispersed workplace and remote workers. The difference between surviving and thriving for business in this time of uncertainty is its leader's ability to navigate the mounting crises and engage employees to maintain their productivity and effectiveness. As employees adapt to the 'new normal,' the organization can better respond to shifting customer needs and business demands. The 7 Keys to Navigating a Crisis provides the roadmap to a better place."
Shane Green, founder of Learning Experiences by Design (LXbD), says, "LXbD is committed to delivering frontline leaders the skills, training, and to-dos that will allow them to elevate the performance of their business or team, even in adverse conditions. Dr. Eli and Coach Kon have developed two virtual sessions that are relevant and important right now. We are excited to share their expertise and insights to our partners and the world." LXbD is working with thought leaders from around the world to design and deliver learning experiences via their team of world-class facilitators and trainers, and these two authors serve as a prime addition to LXbD's team.
LXbD is committed to bringing the most relevant and motivating learning experiences to organizations, specifically to frontline managers and supervisors. LXbD works with thought leaders and experts to develop learning experiences on-demand — meaning that they are available when they are most needed. Green says, "While there has been a tremendous push to do all training via technology, we know that a blend is required. So, while online training is on-demand and easily accessible, we wanted to do the same for live learning in partnership with some great human resources thought leaders."
About Dr. Elia Gourgouris: Dr. Elia Gourgouris is the founder of The Happiness Center, an organization of world-leading experts in the field of positive psychology, dedicated to creating personal success and happiness.
About Coach Kon: Konstantinos Apostolopoulos is the founder and CEO of Fresh Biz Solutions. Fresh Biz Solutions is a human capital management consulting group that provides performance improvement and training solutions to help organizations develop their people, improve business results, and reap the benefits of a comprehensive talent management strategy.
About LXbD: Learning Experiences by Design provides live learning experiences on a variety of skills, ideas, and topics. Clients will be able to choose from an extensive marketplace of live learning experiences and trainers from around the world. If you cannot find the LX you need, LXbD will utilize its vast network of thought leaders to develop it at no cost to you. LXbD also offers facilitators and trainers, certified to deliver either an instructor-led LX or your own orientation, leadership development or other in-house programs.
Contact Information:
Contact us at connect@LXbyDesign.com or www.lxbydesign.com.
Source: LXbD