Lack of Clean Water is a Huge Roadblock in Fighting COVID-19
Press Release
-
updated: Apr 10, 2020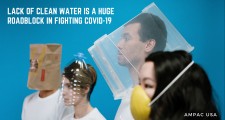 CALIFORNIA CITY, Calif., April 10, 2020 (Newswire.com) - The number of people who are affected by the worst global pandemic in a century, COVID-19 has crossed a million mark. In such a scenario, the focus might soon shift to a lack of clean water and the importance of crucial solutions such as Seawater Desalination and emergency portable water treatment.
According to reliable data, 780 million people don't have access to an improved water source. It's a huge roadblock in fighting COVID-19 as the disease can only be prevented by washing hands with clean water at regular intervals. Sanitation is also a major issue as about 2.5 billion people, that's over 35% of the global population doesn't have access to improved sanitation.
A Health Crisis
In addition to being a huge roadblock in fighting COVID-19, lack of pure water is a crisis on its own. About a million people die each year due to water, hygiene-related diseases. The situation can be improved by trusting water purification methods like seawater desalination.
Rural Issue
According to a Joint Monitoring Program Report in 2017, 3 in 10 people don't have readily available water at home. So, they basically don't have the luxury of washing their hands multiple times a day as a normal urbanite does.
After the report, the Director-General of WHO, Dr. Tedros Adhanom Ghebreyesus stated, "Safe water, sanitation and hygiene at home should not be a privilege of only those who are rich or live in urban centers. These are some of the most basic requirements for human health, and all countries have a responsibility to ensure that everyone can access them."
The Worst Hit Nations
As per national data that was made available for 100 nations in 2015, 10 countries with poorly managed water supplies were:
Mexico- The country is leading the chart in drinking packaged water as about three-quarters of people rely on it. 
Congo- In rural parts of the country, only 21% of people have access to water nearby.
Pakistan- This Asian country has the greatest gap when it comes to basic hygiene of the richest and the poorest.
Bhutan- Just a third of the managed drinking water of the country is contamination-free.
Ghana- Over half the population of the country has access to limited sanitation services only. 
Nepal- More than 30% of the population of this tiny country is forced to practice open defecation. 
Cambodia- Approximately 5% of the population of this country depends on delivered water.
Nigeria- About 15% of the people in this country depend on unimproved water sources. 
Ethiopia- The gap between safely managed water services in urban and rural areas of the country is quite high at 43%.
Uganda- About 40% people in the country have to travel over 30 minutes to get access to safe drinking water.
All these stats, numbers, figures and data reiterate the fact that lack of clean water is a huge roadblock in fighting COVID-19, especially in rural areas.
Source: AMPAC USA
Share:
---
Categories: Business News
Tags: Corona Virus, Reverse Osmosis, Sanitation, Seawater Desalination
---