Korean Skin Care Brand Saranghae Launches 3 New Products in North America: Has Korean Skin Care Finally Found a Category Leader?
With 3,000% growth in the last 12 months alone, Saranghae is poised to become the fastest growing Korean skin care brand in North America
Press Release
-
updated: Aug 8, 2017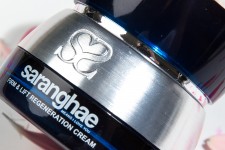 Toronto, ON, August 8, 2017 (Newswire.com) - Korean Beauty (K-Beauty) has been dominating recently among the 18 to 24-year-old market with leading players like Memebox, Tony Moly & Innisfree offering fun and cheaper alternatives to traditional beauty brands. The 25+ year old demographic however has been slower to respond to the growing K-Beauty trend. A new entrant into the North American beauty space is making some serious inroad targeting the more mature consumers. Saranghae (which means I love you in Korean) recently launched 3 new products that make up 3 steps of their Complete 5 Step Anti-Aging System.
With over 3,000% growth in the last 12 months, Saranghae is currently poised to become the fastest growing Korean skin care brand in North America.
"We've been active in the Korean market place for some time but we're fairly new to North America. Current Korean skin care brands in the US mostly target Asian expatriates or consumers who already know and understand Korean Beauty but we're looking to build relationships with North American consumers that are new to K-Beauty. We didn't anticipate so much demand so quickly. We sold out 3 times in 12 months." Says Peter Lee President & CEO of Saranghae.
The 3 new products, Saranghae Firm & Lift Cellular Regeneration Cream, Focus Renewal Eye Cream & Deep Radiance Essence & Serum are powered by the Sang Hwang (Phellinus linteus) mushroom, an ingredient with over 1,500 years of history. Popular in most of Asia, many still drink this mushroom in tea form for its supposed anti-cancer and anti-inflammatory properties. Koreans call it the "healing mushroom".
Asked why Sarangahe would improve on the formulation that already seems to be extremely popular with consumers, Peter Lee responds:
"Innovation is part of our DNA. We're constantly looking to improve for greater efficacy and better customer experience. To properly extract and stabilize the Sang Hwang mushroom we worked with the University of Seoul in Korea to create 2 new extraction technologies that took us over 5 years to perfect. It was challenging but I'm sure the results will speak for itself."
About Saranghae
Saranghae is an innovative & award winning 5 Step Korean Anti-Aging Routine designed to directly address the root causes that lead to unhealthy, damaged and visibly aging skin. Saranghae achieves this in 3 distinct steps: Heal, Regenerate and Protect.
For More information on Saranghae visit their website at: www.lovesaranghae.com
Consumer Contact:
customercare@lovesaranghae.com
1.855.895.4344
Media Contact:
Lauren Greenberg
marketing@lovesaranghae.com
Source: Saranghae
Share:
---
Categories: Business to Consumer, Beauty and Personal Care, Beauty and Cosmetic Products
Tags: amore pacific, beauty, k-beauty, Korean beauty, Korean skincare, makeup, memebox, Sephora, skin care, skincare tips, sulwahsoo, Ulta
---