KoKo Mi' Kosmetics by Alexis Skyy is Making Major Moves
Press Release
•
updated: Dec 12, 2017
KoKo Mi' Kosmetics Launches Two New Product Lines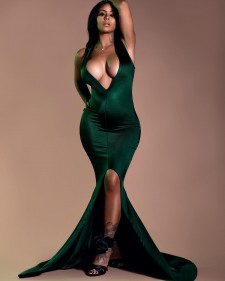 ATLANTA, December 12, 2017 (Newswire.com) - Television reality show "Love & Hip Hop" 2017 season introduced an intriguing young lady by the name of Alexis Skyy. This opportunity allowed the public to know who she is and to find out all she has to offer, including her phenomenal cosmetic and body care line, KoKo Mi' Kosmetics.
KoKo Mi' Kosmetics was created by Alexis Skyy after being inspired by her upbringing with her mom and grandmother. The family recipe for skincare from these women consisted of only raw and natural ingredients. As a teen, Alexis did not experience the dreadful teen acne outbreak and attributes this solely to the all natural organic product combination that is now KoKo Mi' Kosmetics.
KoKo Mi' Kosmetics has brought us two product lines thus far. The first is KoKo Mi' Mommy which is a skincare product line whose objective is "to keep you looking youthful, refreshed and beautiful; effortlessly each day with pure products". This product line features face and body care products such as lip scrub, lip balm, facial cleansers, toners and much more.
Beige is the second product line that has been created by Alexis Skyy and KoKo Mi' Kosmetics. Beige is a hot new makeup line that you do not want to miss. All Beige products are pure and natural as all Koko Mi' Kosmetics has proven to be rejuvenating for the skin. So next time you need your face BEAT, remember Beige cosmetics as you will not only look good your face will feel good too.
Koko Mi' Kids is being endorsed by Alexis Skyy, as this HOT new kids clothing line was created by her own mother. This clothing line was created and inspired for Alexis's daughter who is expected to make her grand appearance in early 2018.
Alexis Skyy and Koko Mi' Kosmetics is off to a great start with much more to come. In September 2016, Bella Sky Spa was opened on Peachtree across from Benihana's in Atlanta; however, due to her role that was offered to her on "Love & Hip Hop" in Los Angeles she had to close the doors. Alexis Skyy has plans for herself and Koko Mi' Kosmetics, so be on the lookout for a new spa soon.
Alexis Skyy has major plans to take Koko Mi' Kosmetics to the next level and have her product distributed and sold internationally. Alexis also plans to write a book that will address the issues of sex trafficking of young girls and other topics that will be a good read. Alexis Skyy and Koko Mi' Kosmetics are making major moves that cannot be missed.
Check out Koko Mi' Kosmetics website: www.kokomimommy.co
Source: Koko Mi' Kosmetics
Related Media